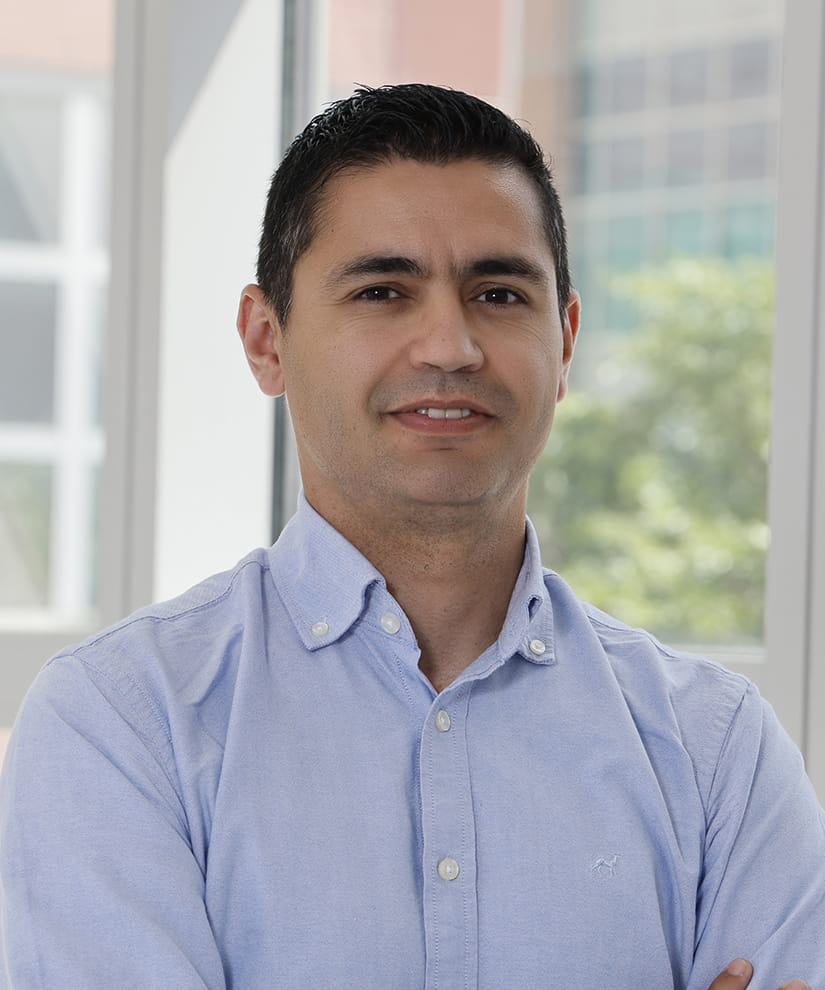 Research Assistant Professor
he/him/his
Division of Occupational Therapy
443D Atwell Hall
453 W. 10th Ave.
Columbus, OH 43210
Areas of interest
Rehabilitation-related Health Systems & Services Research, specifically on:
Rural Rehabilitation - Disparities & Strengthening
Global Health & Rehabilitation
Workforce Development – Policy, Planning, and Management
Patient Experience and Person-Centered Care
Knowledge Synthesis, Knowledge Translation and Methods Research.
Improvement & Implementation Science – including for Telerehabilitation
Overview
Dr. Jesus is an Occupational Therapist and Rehabilitation Services Researcher that aims to identify and tackle rehabilitation access and quality disparities. His scholarship focuses on the geographically underserved populations, such as disabled persons living in rural areas and/or low-resource settings - domestically and elsewhere. Dr Jesus's scholarship advocates for the local and global strengthening of rehabilitation systems of care, including through workforce strengthening, service-delivery innovations (e.g., telerehabilitation, telemonitoring), and stakeholder-engaged or codesign approaches. Dr Jesus's scholarship also focus on what it takes for rehabilitation services to be person-centered, and how to systematically use the patient's voice (i.e., the patient experience feedback) for its continuous improvement.
Dr. Jesus's research, training and quality improvement activities have been externally funded at the federal-agency level, by leading rehabilitation hospitals, or through the Veterans Administration, among others. In partnership with the World Federation of Occupational Therapists, Dr. Jesus is leading the development of the first-ever global strategy for strengthening the Occupational Therapy profession worldwide.
Dr. Jesus rapidly published over 50 international peer-reviewed publications, often as first or senior author, in major rehabilitation and public health journals, including in The Lancet. Dr. Jesus has been a federal Grant Reviewer, Associate Editor for the Int J Health Plann Manage, Editorial Board member of the Work, and has received recognition (e.g., reviewer awards, author interviews, editors' selection) from the leading journals of the rehabilitation field.
With a global scholarship and network of collaborators, Dr Jesus has been a frequently invited speaker and lecturer internationally, and mentored the research or dissertations of graduate students, practitioners, or junior faculty from >10 countries, from high- to low-income. Dr. Jesus is passioned about building the capacity of his students and mentees to become effective leaders and agents of change - in their own settings, communities, or countries.
Recent publications
Jesus TS, Mani K, von Zweck C, Bhattacharjya S, Kamalakannan S, Ledgerd R. The Global Status of Occupational Therapy Workforce Research Worldwide: A Scoping Review. Am J Occup Ther. 2023 May 1;77(3):7703205080. doi: 10.5014/ajot.2023.050089.
Kumurenzi A, Richardson J, Thabane L, Kagwiza J, Urimubenshi G, Hamilton L, Bosch J, Jesus TS. Effectiveness of interventions by non-professional community-level workers or family caregivers to improve outcomes for physical impairments or disabilities in low resource settings: systematic review of task-sharing strategies. Hum Resour Health. 2023 Jun 21;21(1):48. doi: 10.1186/s12960-023-00831-7. PMID: 37344907
Jesus TS, Mani K, Bhattacharjya S, Kamalakannan S, von Zweck C, Ledgerd R, The World Federation of Occupational Therapists. Situational analysis for informing the global strengthening of the occupational therapy workforce. Int J Health Plann Manage. 2023;38(2):527-535. doi: 10.1002/hpm.3605. PubMed PMID: 36539680
Jesus TS, Stern B, Struhar J, Deutsch A, Heinemann AW. The use of the patient experience feedback in rehabilitation quality improvement and codesign activities: scoping review of the literature. Clin Rehabil. 2023 Feb;37(2):261-276. doi: 10.1177/02692155221126690. PMID: 36112880.
Jesus TS, Kamalakannan S, Bhattacharjya S, Bettger JP, Jacobs K, Hoenig H. Which factors affect the implementation of telerehabilitation? Study protocol for a mixed-methods systematic review with a framework synthesis. Work. 2023. doi: 10.3233/WOR-210745. Online ahead of print. PubMed PMID: 36683522
Recent presentations
Jesus TS. Keynote speaker. Person-Centred Rehabilitation Model: what exactly does it mean in concept and in practice. Person-Centered Conference of the Danish Society of Neurorehabilitation, Copenhagen, Denmark, 2023.
Jesus TS, Keynote speaker. WFOT Session: Toward a Global Strategy for the strengthening of the Occupational Therapy human resources. WFOT Congress, Paris, France, 2022.
Jesus TS. Invited speaker. Global Health, Rehabilitation, and Workforce Research… Connecting the Dots. McMaster University, Hamilton, Canada, 2022
Jesus TS. Invited speaker. Scoping reviews in social and behavioral research: what, why, and how. IV Iberoamerican Conference of Neuropsychology, virtual, 2021
Jesus TS. Symposium Coordinator: Vulnerabilities and disability-inclusive responses to COVID-19 pandemic. American Congress of Rehabilitation Medicine's Annual Conference, virtual, 2021.
Awards and honors
2022 - Federal Grant Reviewer: US National Institute of Disability Independent Living and Rehabilitation Research. Model Systems Centers program
2021 - current, Association Editor, Section Human Resources for Health, Int J Health Plann and Manage (Wiley), UK
2020 - current, Editorial Board Member, Work (IOS press), Netherlands
2020 -

Guest Editor, Special Issue: "Global Rehabilitation Workforce, Policy, and Innovation", Int J Environ Res Public Health (MDPI), Switzerland
2019 - Elite Reviewer Award, Arch Phys Med Rehabil; contribute of "extraordinary magnitude and quality", attributed to the top 2% reviewers of the journal
Education
2021-2023, Post-Doctoral Fellowship (PDF), Health Services & Outcomes Research, Institute for Public Health and Medicine, Northwestern University, USA
2020-2021, Post-Professional Occupational Therapy Doctorate (PP-OTD), Sargent College, Boston University, USA
2009-2013, PhD, Health Psychology, Medical School, Universidad Miguel Hernández, Spain
2002-2006, Entry-Level, 4-year Occupational Therapy degree, School of Health, Oporto Polytechnic Institute
Links