Want to learn more about our OTD Program?
---
Follow the Occupational Therapy Program
Located at one of the premier medical centers in the world, our renowned faculty includes authors of leading textbooks, internationally recognized scholars, and esteemed practitioners. These are the experts who will teach you the art and science of occupational therapy!
Now exclusively offering an entry-level Doctorate of Occupational Therapy, The Ohio State University continues to lead the way within this field. Our outstanding faculty is committed to promoting scholarship, leadership, and evidence-based practice in occupational therapy. Our mission is to produce graduates who will improve people's lives through caring attitudes, exceptional skills in critical thinking, collaboration, communication, a desire to engage in lifelong learning, competence in ethical and responsible decision making, and respect for the dignity of all individuals.
Accreditation
The Doctorate of Occupational Therapy program is accredited by the Accreditation Council for Occupational Therapy Education (ACOTE) of the American Occupational Therapy Association (AOTA), located at 6116 Executive Boulevard, Suite 200, North Bethesda, MD 20852-4929. ACOTE's telephone number is 301-652-6611 and its web address is www.acoteonline.org.
Graduates of our program perform extremely well on the National Board for Certification in Occupational Therapy (NBCOT) compared to the national averages, and virtually all other programs. You can view our programs outcomes by visiting the
NBCOT website
.

For professionals who are already occupational therapy practitioners, the School of Health and Rehabilitation Sciences also offers opportunities to advance your knowledge and strengthen the evidence that supports your practice through our Master's of Science and PhD programs.

Year after year, The Ohio State University Occupational Therapy Program has been ranked among the country's top Occupational Therapy Programs, and is one of the highest ranking graduate programs at The Ohio State University Wexner Medical Center!
Graduation and Passing Rates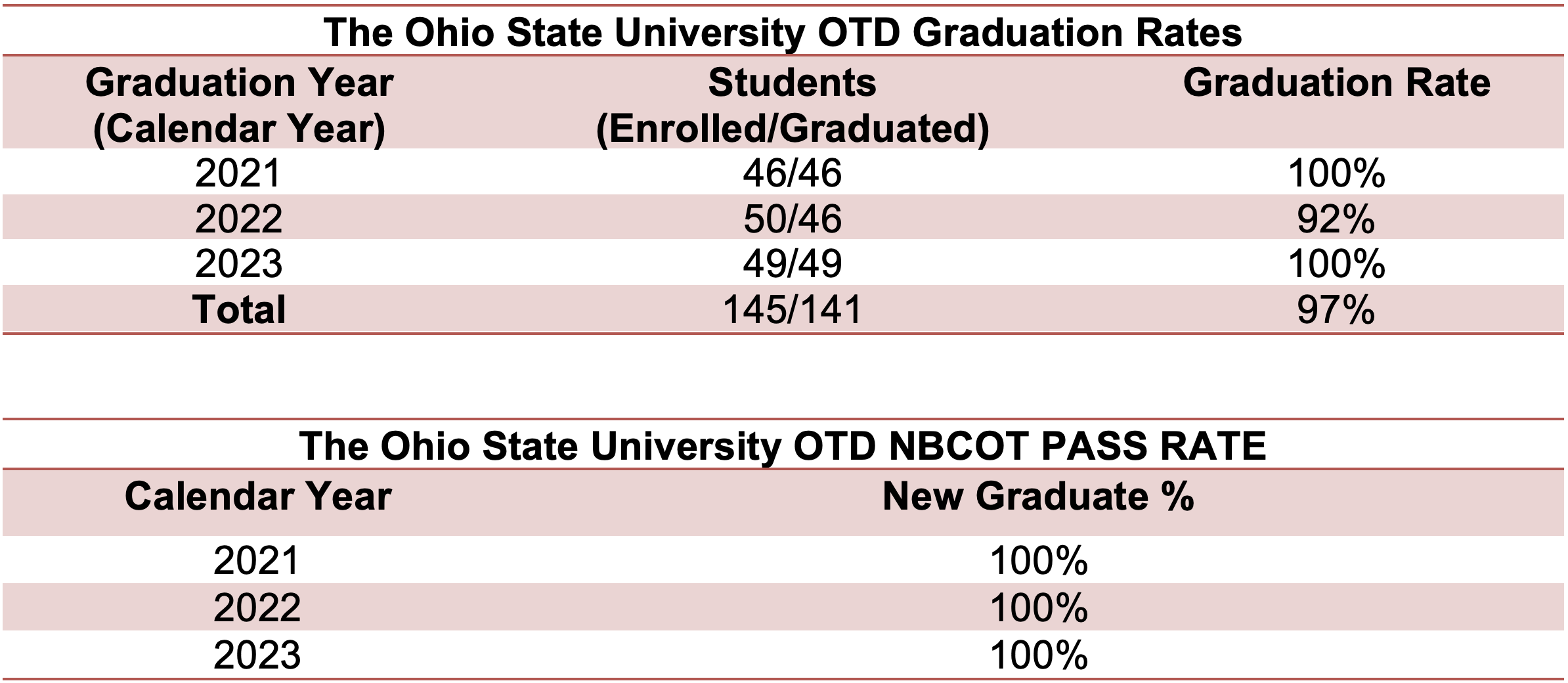 Disclosure Statement
Ohio State academic programs are designed to prepare students to sit for applicable licensure or certification in Ohio. If you plan to pursue licensure or certification in a state other than Ohio, please review state educational requirements for licensure and certification and state licensing board contact information at
http://go.osu.edu/disclosures
for online programs and
http://go.osu.edu/onground
for on-campus programs.