The Division of Occupational Therapy offers a Doctorate in Occupational Therapy (OTD) degree program.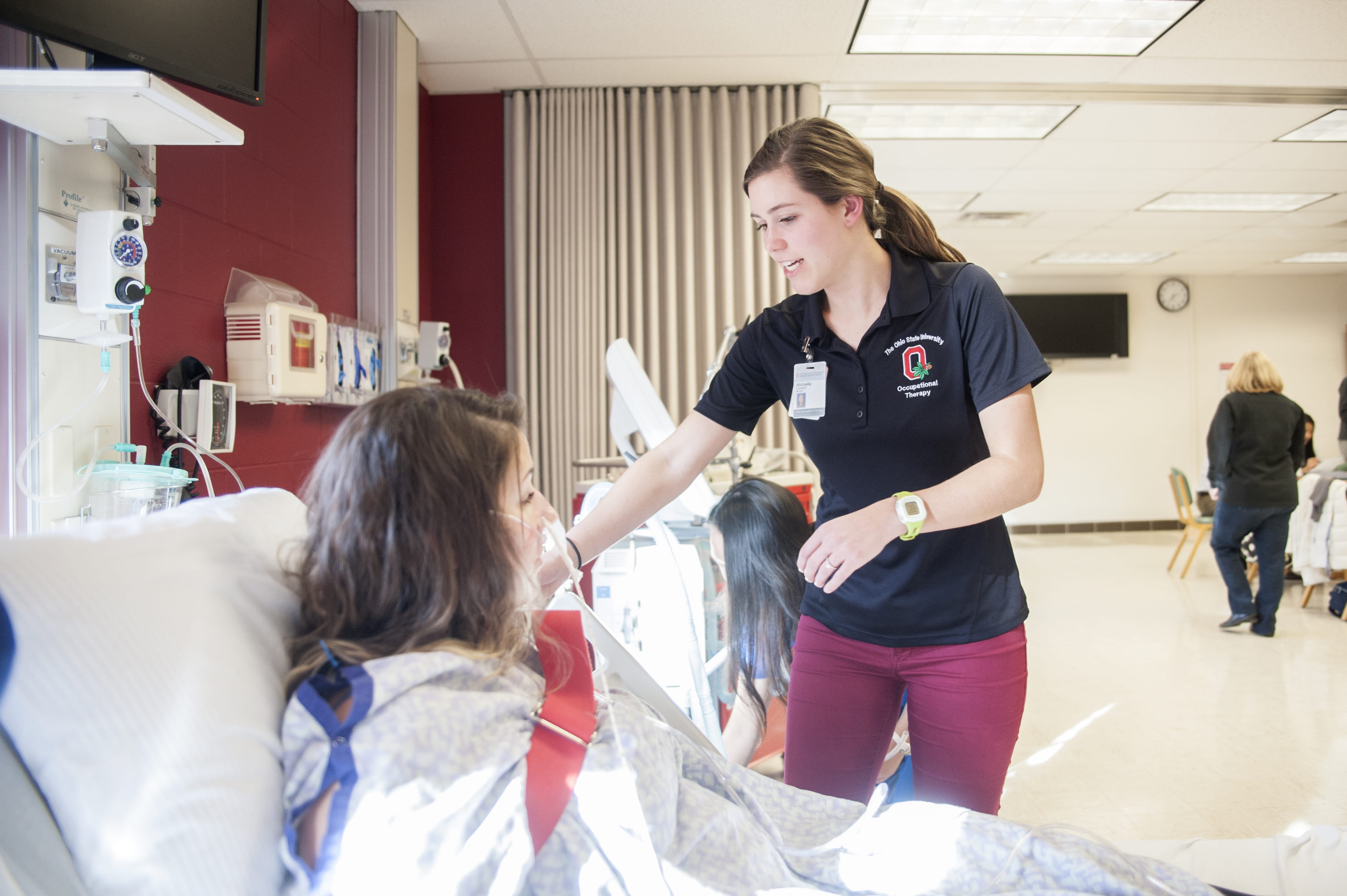 Our program requires two years of full-time study plus six months of full-time fieldwork. Entering students must ​have completed a bachelor's degree and other admis​sio​ns requirements.

We offer a full-time program in which students experience interrelated didactic courses, laboratory activities, community lab, and clinical fieldwork experiences each quarter. Some of the outstanding features of our program include:

Recognized, award-winning faculty with expertise in pediatrics, adult rehabilitation, neurorehabilitation, gerontology, mental health, assistive technology and developmental disabilities.
Working with authors of leading textbooks in the field, recipients of major research awards from the National Institutes of Health and other organizations, and leaders in the field of occupational therapy, including the president of the Ohio Occupational Therapy Association.
Learning and working on the campus of one of the world's leading medical centers, which boasts Top 10 programs in 13 medical specialties, including rehabilitation and neurology
Pass rates well above the national pass rates for the National Board Certification Examination for Occupational Therapists.
A 70-year history of producing outstanding graduates, making Ohio State's program one of the most established in the nation.
Access to the outstanding research resources that only a research university can offer, including a federally designated traumatic brain injury model system and a Christopher Reeve Neurorecovery Network Site.
Technical Standards
The technical standards set forth in this document by the Occupational Therapy Division establish the essential functional requirements necessary for enrolled students to acquire the knowledge, skills, competencies and values of an entry-level Occupational Therapist.
Mission:
Our mission is to improve lives through innovation in research, service, and education. We will prepare highly qualified, ethical entry-level occupational therapists who support the health and well-being of the people of Ohio and the global community.


Vision:
We will be globally recognized as a preeminent occupational therapy program at the forefront of scholarship, leadership and research in education, service, and practice.

Philosophy:
The Occupational Therapy curriculum at the Ohio State University is based on the faculty members' beliefs about the capacities of human beings, the impact of occupation on their health and well-being, the role of education on the development of skilled and ethical occupational therapists.
Each individual is a unique, complex, human being who has a set of attributes which support his/her occupational performance in a variety of dynamic roles across time (Law et al, 1996). These mental, physical, and spiritual qualities influence the daily life activities, or occupations which are selected, valued, and maintained across an individual's lifespan.
Occupation is the daily life activities in which people engage within diverse environments that support their participation in meaningful life situations. Full engagement in occupation occurs through a dynamic process of interaction with the physical, social, temporal, cultural, psychological, spiritual and virtual environments (AOTA, 2014).
Occupation is determined by interaction between person and various contexts (cultural, personal, temporal, and virtual) and between the person and their environments (AOTA, 2014). Through engagement in valuable and constructive occupations, persons and groups of individuals change, evolve, and adapt. As a result, greater participation in daily life, improved role competence, and additional access to all enriching occupations can be achieved.
The ability to participate in occupation is a major determinant of health (AOTA, 2014). Healthier individuals meet their daily needs with purpose and are empowered to make informed health decisions. They engage in behaviors that prevent disease, disability, injury, and premature death and create social and physical environments that promote good health and wellness (Healthy People, 2010). Similarly, healthy groups or populations are more likely to report an overall high quality of life, contentment, and greater productivity (Healthy People, 2010).
The role of the occupational therapist is to assess the needs of individuals and populations for occupational engagement and to identify barriers to full occupational participation. In conjunction with occupational therapy assistants, occupational therapists devise strategies that restore, modify, and compensate for performance deficits and support occupational performance, prevent disability, and promote health and well-being. We affirm AOTA's Centennial Vision that occupational therapy practitioners are client centered, evidence based, and science driven (AOTA, 2006).
Individuals have a natural potential and motivation for learning. Student learning is enhanced when there is active, collaborative, and cooperative engagement in activities that are meaningful and authentic. Students learn best when diverse learning styles are recognized and appreciated and when prior knowledge is integrated with new academic knowledge and experiences (AOTA, 2007, 2014). Transformative learning experiences encourage individuals to examine existing views about life, revise current thinking, and integrate new learning into contemporary occupational therapy practice, standards, norms, and values (Cahill, 2009). The Ohio State University faculty members believe that these types of experiences promote lifelong learning, continued personal growth, self-actualization, and improved quality of life in a dynamic and diverse society.
The Ohio State University faculty members embrace and incorporate adult learning concepts and methodologies that emphasize the capacity of the learner to grow, critically integrate their own experiences, interact actively with the faculty and clients, and take responsibility for their learning experiences. This methodology is entirely consistent with both the age and expectations of our learner audience, and with the spirit of occupational therapy which emphasizes individualized, person-centered, salient experiences as the foundation for personal growth and actualization.
We believe that learner outcomes are optimized when the student is encouraged to interpret materials in a way that is meaningful to him/her, when a variety of teaching methods is used, and, most importantly, when students are active learners.
References:
Law et al. (1996). The person-environment-occupation model: a transactive approach to occupational performance. CJOT, 63(1), 9-23.
AOTA. (2007). Philosophy of occupational therapy education. AJOT, 61.
AOTA. (2014). Occupational therapy practice framework: domain and process (3rd ed.). AJOT, 68(Suppl. 1), S1-S48.
U.S. Department of Health and Human Services, Office of Disease Prevention and Health Promotion. (2010). Healthy People 2020 Framework. www.healthypeople.gov.
Cahill SM, Bulanda M. (2009). Using transformative learning theory to enhance professional development. The Internet Journal of Allied Health Sciences and Practice, 7(1), 1-7.