What is Occupational Therapy?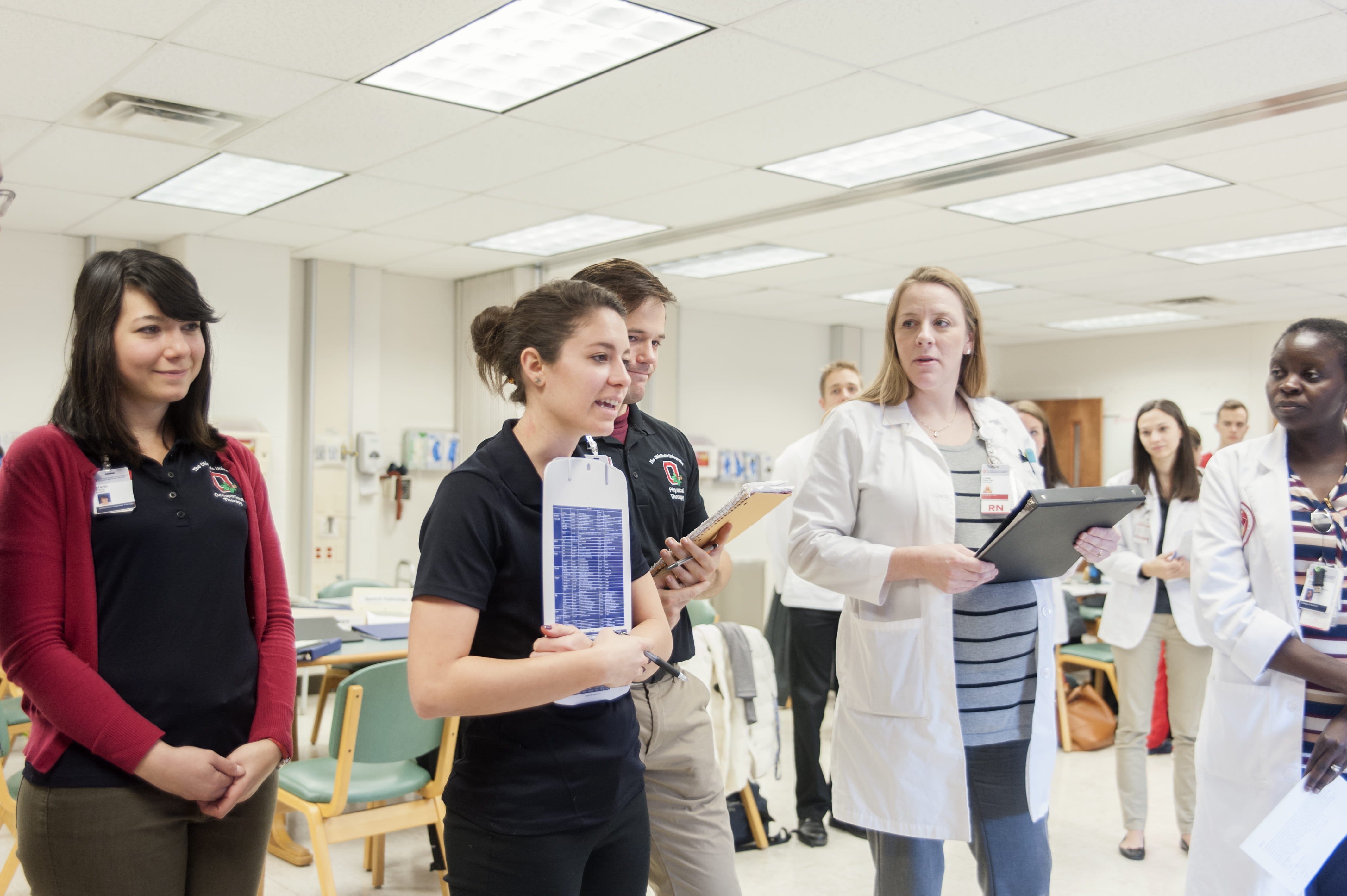 Occupational therapy enables people to do the 'day-to-day activities that are important to them' despite impairments, activity limitations or participation restrictions or despite risks for these problems. Occupations are another name for these day-to-day activities. At Ohio State, you will acquire the skills to facilitate independent living in people with a variety of disabilities and disorders.
Occupational Therapy is Directed to Those Who Possess or at Risk of
Physical disabilities
Cognitive disabilities
Psychosocial dysfunctions
Mental illnesses
Developmental or learning disorders
Maladaptive behaviors
Other disorders or conditions
Services Include
Evaluating and providing intervention in collaboration with the client, family, care giver, or others
Developing, improving, sustaining, or restoring skills in activities of daily living (ADL), work or productive activities, and play or leisure
Identifying and facilitating engagement in meaningful and healthy occupations
Developing, remediating, or restoring sensorimotor, cognitive, or psychosocial components of performance
Educating the client, family, caregiver, or others in carrying out appropriate nonskilled interventions
Consulting with groups, programs, organizations, or communities to provide population-based services
Intervention Involves
Therapeutic use of meaningful and purposeful occupations
Adaptation of environments and processes to enhance functional performance in occupations
Promotion of health and wellness through engagement in valued occupations
Graded tasks and activities as pre requisites to engagement in occupations
Design, fabrication, application, or training in the use of assistive technology or orthotic devices and training in the use of prosthetic devices
Application of physical agent modalities as an adjunct to or in preparation for engagement in occupations
Application of ergonomic principles to the performance of occupations
Outcomes of Occupational Therapy
Occupational therapists, through their interventions, enable people to regain health as well as function" (Edwards, 1997, p. 562). In other words, active engagement in a variety of occupations promotes and maintains physical, cognitive, and emotional health. Conversely, the lack of engagement in occupations leads to deterioration and dysfunction (Kielhofner, 1992). Occupational therapy practitioners also incorporate into their interventions the understanding that engagement in occupation affects quality of life. In other words, occupational therapy practitioners collaborate with others to design occupations that lead to accomplishment, mastery, and a sense of purpose and meaning in life. Therefore, occupational therapy services achieve:
Quality of Life
Function
Health & Well-Being
Occupational Performance
Career Opportunities in Occupational Therapy
Occupational therapists work in a variety of settings, including private homes, children's hospitals, general hospitals, rehabilitation centers, state hospitals, public and special schools, sheltered workshops and other community agencies. Some therapists establish their own private practices. With experience or additional education, occupational therapists may become administrators of occupational therapy departments.


Bureau of Labor Statistics
The Bureau of Labor Statistics (BLS) is a federal government agency that publishes the Occupational Outlook Handbook, which provides detailed descriptions of most occupations.
Click here
for a complete description of the profession of occupational therapy.
Salary Trends
Median annual earnings of occupational therapists were $78,810 per year in May 2014 according to the Bureau of Labor Statistics.
Videos to Learn More About Occupational Therapy
References
Moyers, P. A. (1999). The Guide to Occupational Therapy Practice. American Journal of Occupational Therapy, May/June #53(#5), 247-321

Edwards, D. F. (1997). The effect of occupational therapy on function and well-being. In C. Christiansen & C. Baum (Eds.), Occupational therapy enabling function and well being (2nd ed.). Thorofare, NJ: Slack Publisher.

Kielhofner, G. (1992). Conceptual Foundations of occupational therapy. Philadelphia: F.A. Davis.