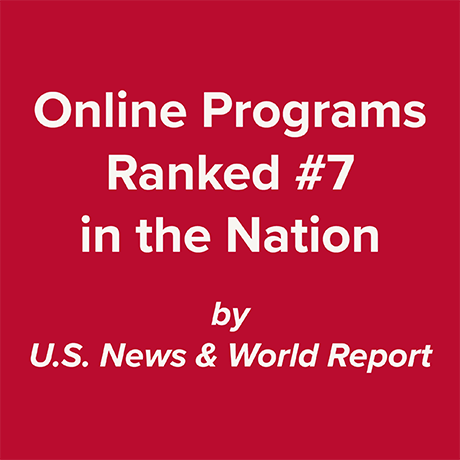 U.S. News & World Report announced The Ohio State University Online Bachelor's Programs earned the #7 spot among Best Online Bachelor's Programs for 2022. The online Bachelor of Health Sciences and the AS to BS Completion Degree in Radiological Sciences from the School of Health and Rehabilitation Sciences (HRS), are two of the four programs that make up the Ohio State online portfolio earning this distinct ranking. The Bachelor of Health Sciences program has been consistently ranked in the top 10 in the nation since 2015.
"Since inception, our program has continuously shown strong growth. The HRS online Bachelor of Science in Health Sciences introduces students to the health care field with the perfect mix of both business and science in a flexible academic environment needed for working professionals and remote learners to conveniently earn their degree," stated Dr. Stefan Czerwinski, professor and director, Health Sciences division. The curriculum includes a broad spectrum of courses from anatomy, psychology, pathophysiology and epidemiology, to research design, health care statistics analysis, ethics and policy issues, and management principles.
Upon graduation, students are well-prepared to begin their health-related career, advance in their current health care role or apply to enter a graduate professional program in medicine, athletic training, dietetics and nutrition, physical therapy, occupational therapy, dentistry and other fields.
The HRS online AS to BS in Radiologic Sciences completion degree is specifically designed to prepare busy radiology professionals for an exciting career in radiologic administration/management within all areas of medical imaging. The degree catapults technologists towards additional professional growth opportunities that may not be available to them without a bachelor's degree. The degree can be earned in less than two years and includes coursework specializing in management principles and strategies, human resources for health care, administration and quality management and more.
"Graduates of the completion program will have a head start preparing for the Certified Radiology Administrator's (CRA) certification exam," stated Dr. Randee Hunter, assistant professor and program director. Earning the CRA credential positions technologists for management positions, distinguishing them as proven, skilled and knowledgeable leaders in the field of imaging management.
All online courses at Ohio State are taught by the same distinguished faculty from the University that teach on campus, with a small student-to-faculty ratio. Each faculty member works with an instructional designer; an expert in taking the best parts of an instructor's style and reshaping them for a technology-rich modality, to provide the best online experience possible.
U.S. News ranks accredited online programs based on various factors, including faculty credentials and training, student engagement, instructor responsiveness, peer reputation, and student services and technology.
Learn more about the online Health Sciences and AS to BS in Radiologic Sciences programs, and U.S. News & World Report Best Online Bachelor's Programs ranking and methodology.