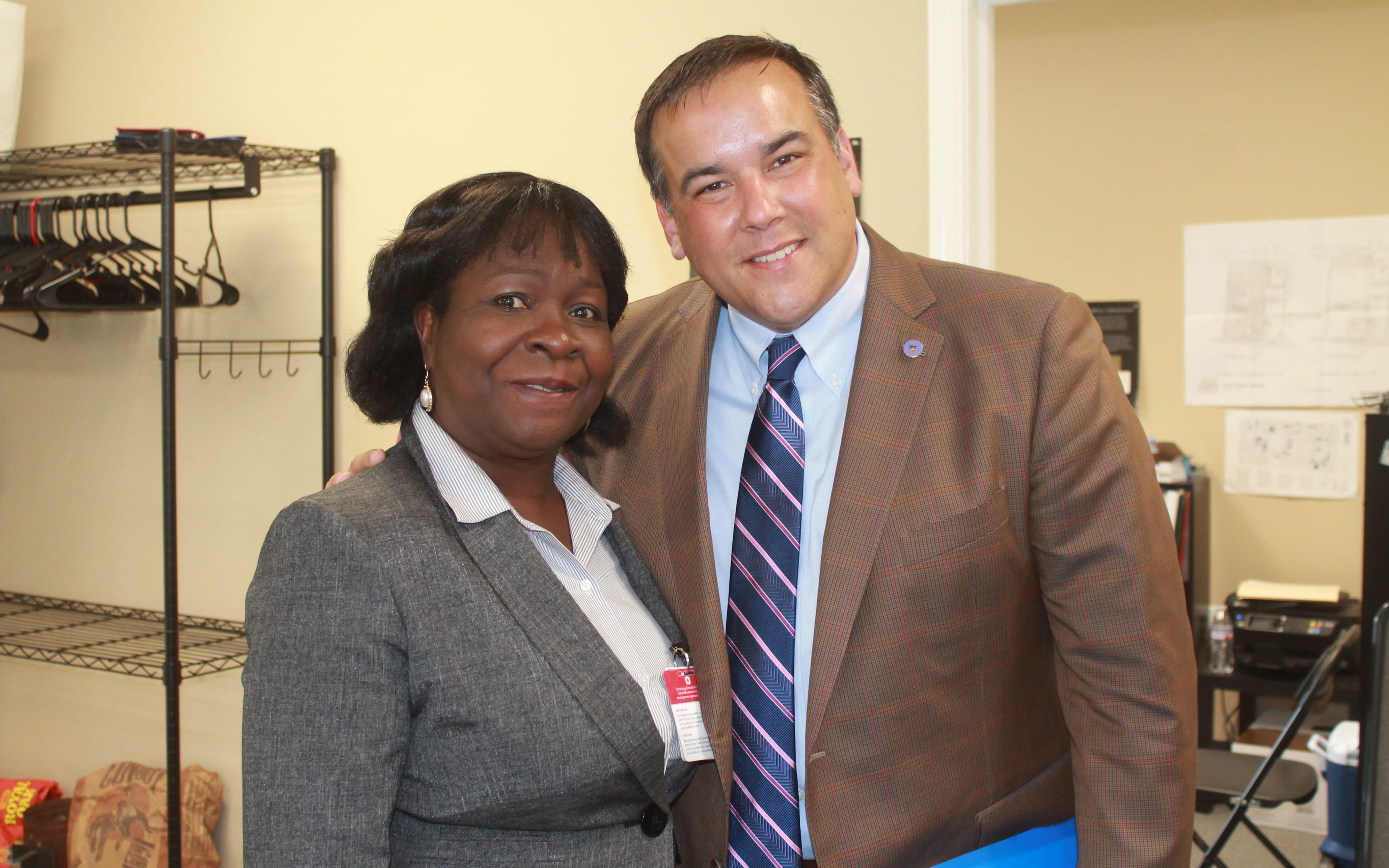 Pictured: Dr. Ingrid Adams and Mayor Andrew Ginther
My Brother's Keeper Grant Funding

Dr. Adams' program, Building Resiliency Through Critical Thinking, among I Am My Brother's Keeper (IAMBK) Youth, has been selected to receive funding — a one-time award of $14,000 to help address the disparities that exist and ensure bright futures for boys and young men of color — from the City of Columbus Department of Neighborhoods' My Brother's Keeper (MBK) grant funding opportunity. Mayor Andrew Ginther and City Council President Shannon Hardin recently announced the grant recipients at Rickenbacker Woods on E. Livingston Ave.
The 2018 summer program for IAMBK is based on a model of critical thinking developed by Dr. Adams, and will adopt an approach whereby opportunities will be provided for young men of color (YMC) to think critically, solve problems collaboratively and make decisions that are in their best interest (Richards-Adams, et al 2010), through an 8-week series of workshops and training sessions. The goal is to help young black men (YBM) think critically about their societal and other challenges facing YMC and to provide an opportunity for them to build on their strength and resilience by increasing graduation rates.
A Collaborative Approach
Dr. Adams will be joined by Stacie Burbage, Community Development Coordinator for OSU Extension and Clarence Jackson, Family Studies at the Kirwan Institute to implement each module in the 8-week summer program at the OSU Extension office at the Reeb Avenue Center on the South Side. And Ashley Wilson, Director of Communications and at the Kirwan Institute, will coordinate program activities, including transportation, meals and advisory committee meetings.
This team, due to its multidisciplinary focus will work to build the strength and resiliency of YMC in Columbus, Ohio by providing opportunities for them to think critically about societal issues. By bringing together resources and expertise from OSU Extension with the Kirwan Institute's cultural competency working with YMC, the program team is well situated to support the needs that arise in addition to future programming. This combined use of resources and skill of team members will ensure that YMC in the MBK program graduate from high school and continue to postsecondary education or find gainful employment. In addition, the team is committed to working the MBK youth to prevent incarcerations or arrest rates and criminal activities thus improving the chances for success in YMC.
More on Dr. Adams
Ingrid Adams PhD, RD, LD, LDE has a joint appointment as Associate Professor in the College of Agriculture and Food Sciences as an Extension Specialist in Food, Health and Human Behavior and Associate Professor in the College of Medicine, School of Health and Rehabilitation Sciences (HRS) in the department of Medical Dietetics. Dr. Adams developed the critical thinking model and has extensive experience developing, conducting and evaluating state-wide interventions. The focus of her research has been in using critical thinking strategies to understanding health disparities and empower low income and minority populations. Dr. Adam's Biography
My Brother's Keeper Background
In February 2014, President Obama launched the My Brother's Keeper (MBK) initiative to address persistent opportunity gaps facing boys and young men of color and ensure that all young people can reach their full potential. The My Brother's Keeper Community Challenge seeks to inspire community leaders, and encourage their commitment to ensuring all young people can succeed.
The My Brother's Keeper Community Challenge encourages communities to convene leaders, identify effective strategies, and work together toward achieving these goals:
1. Ensuring all children enter school cognitively, physically, socially and emotionally ready;
2. Ensuring all children read at grade level by third grade;
3. Ensuring all youth graduate from high school;
4. Ensuring all youth complete post-secondary education or training;
5. Ensuring all youth out of school are employed; and
6. Ensuring all youth remain safe from violent crime.