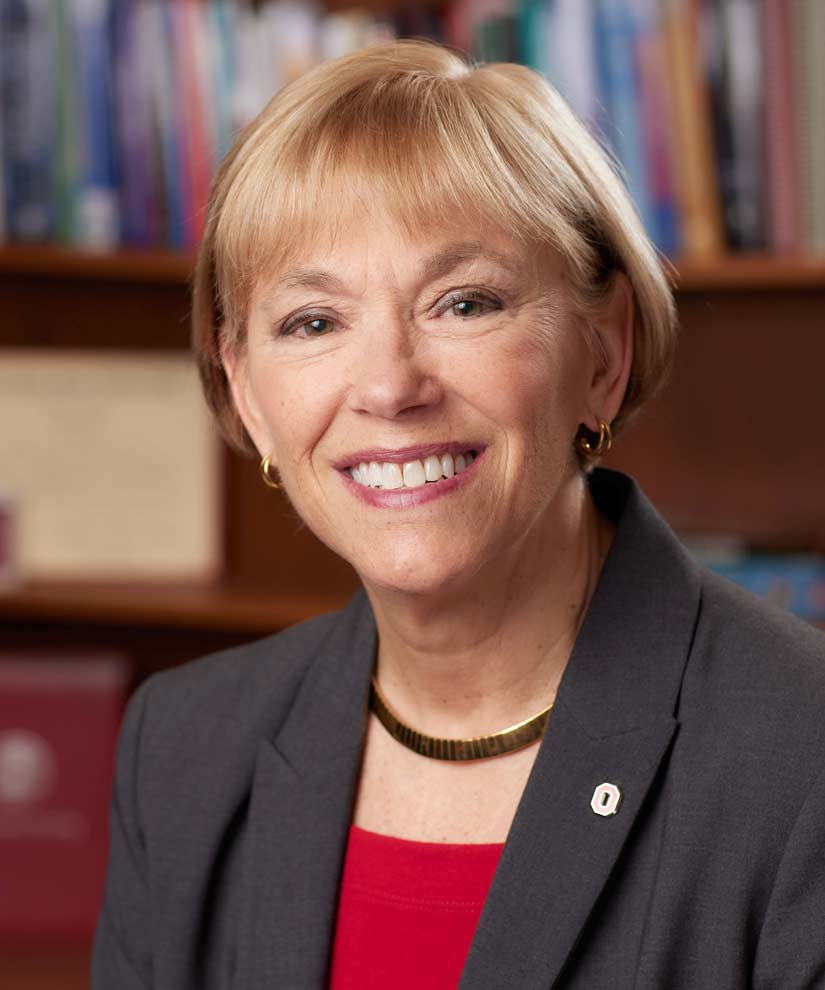 Deborah Larsen, PhD, PT, FAPTA, professor and director of the School of Health and Rehabilitation Sciences (HRS), has shared her plans to retire June 30, 2022 from The Ohio State University College of Medicine after more than 32 years of exemplary service. The University is exceptionally grateful for her leadership and dedication to our students.
Under Dr. Larsen's leadership, the school has seen tremendous growth, and now educates more health care professionals than most programs in the nation. The school has nine divisions, 22 academic programs and more than 100 educators and 2,600 students. Over the last two decades, the school has added several new programs, including an online health sciences degree that is frequently ranked as one of the best in the nation by U.S. News & World Report. Its graduate program in Physical Therapy is ranked ninth in the nation and Occupational Therapy is ranked 13th. Research funding has skyrocketed from $1.18M in 2005 to $7.5M in 2020. The school is also now home to the Injury Biomechanics Research Center with six researchers.
After graduating from the University of Toledo with a master of education degree in educational psychology, Dr. Larsen completed her Doctor of Philosophy degree in psychobiology at Ohio State. In 1989, she joined the College of Medicine as a lecturer in the School of Allied Medical Professions' Physical Therapy Division and rose to assistant professor in 1990 and associate professor and director of the Physical Therapy Division in 1996. In 2005, Dr. Larsen was appointed interim director of the School of Allied Medical Professions (now HRS) and one year later became the permanent director of the school, at which time she also earned the titles associate vice president for Health Sciences and associate dean of the College of Medicine. She became a full professor in 2013.
Dr. Larsen is internationally known for her work and studies in physical therapy with patients who have had a stroke, with grant funding of $6.2M. She was the site principal investigator for three multicentered clinical trials, including EXCITE, the first NIH-funded multicentered grant to explore upper extremity rehabilitation after stroke. She also published one of the first articles on the use of fMRI to document upper extremity recovery in 2001. She has authored numerous peer-reviewed articles and book chapters, is editor of a leading textbook on neurorehabilitation and has served as the principal investigator on many notable studies.
In the education realm, Dr. Larsen demonstrates a true passion for teaching by advising and mentoring countless students, including many PhD and master's degree candidates.
She completed a fellowship in the prestigious Hedwig van Ameringen Executive Leadership in Academic Medicine program for women in 2009, and is a fellow of the Association of Schools Advancing Health Professions. She was also named a Catherine Worthingham Fellow of the American Physical Therapy Association in 2016.
Please join us in congratulating and thanking Dr. Larsen for her extraordinary contributions and service to The Ohio State University College of Medicine!