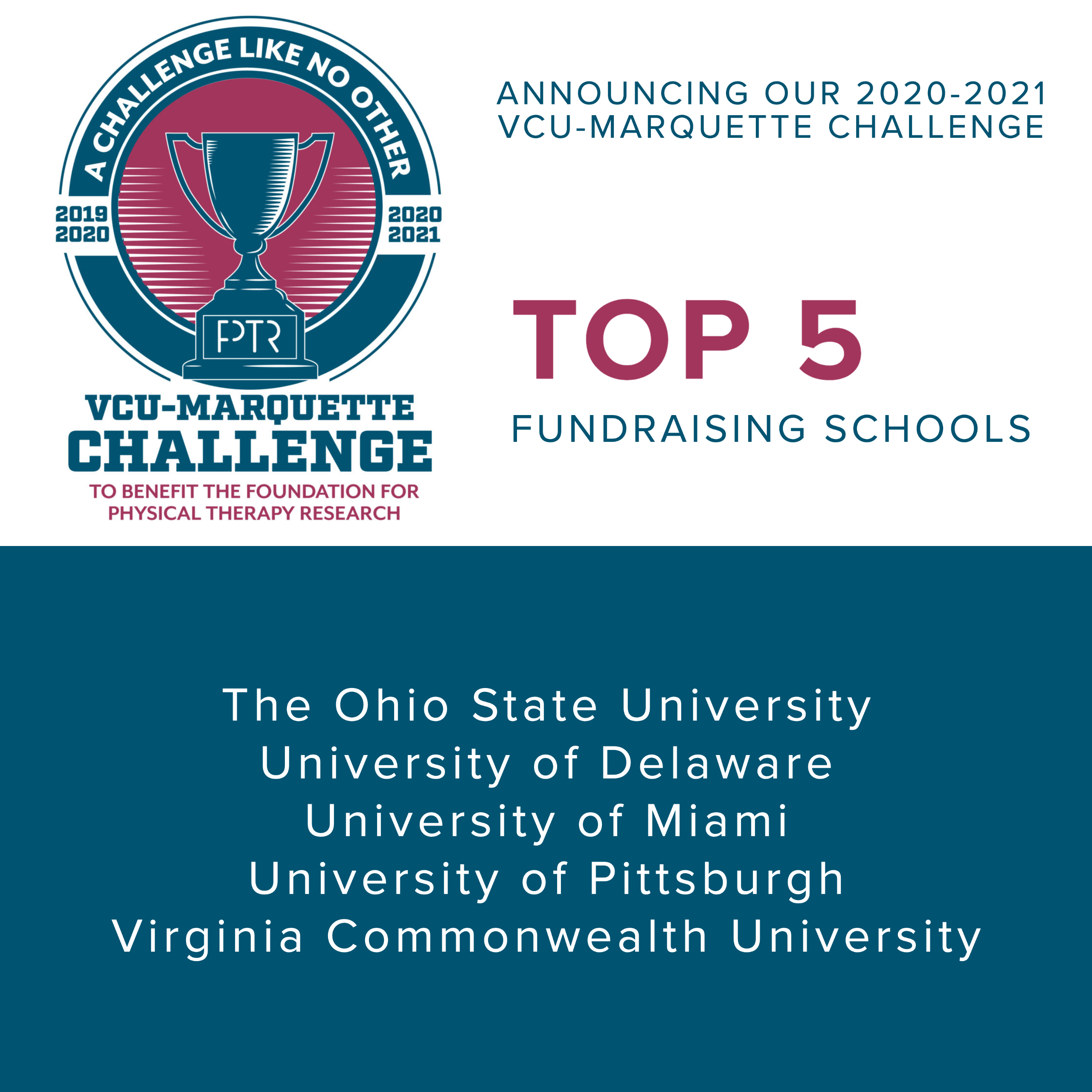 The Ohio State University's Doctorate of Physical Therapy (DPT) program in the School of Health and Rehabilitation Sciences, has recently earned the #5 ranking from over 120 DPT programs across the country in the 2020-2021 Marquette Challenge, a student-led fundraising effort benefitting the Foundation for Physical Therapy Research. Each year, hundreds of future physical therapists and physical therapist assistants, with the support of their program's faculty and community, hold fundraising events across the country to compete in this challenge.
The announcement was made during the 2021 Foundation for Physical Therapy Awards Celebration held in June. This award was given in recognition of the $18,010 Ohio State DPT students raised for the Foundation over the past year. DPT student coordinators Chase Kuhn, Kristen Cook, Sanjiv Dhodapkar and Taylor Collis led the program's fundraising efforts that helped put Ohio State in the top five.
In addition, the Ohio State DPT program was one of only four programs in the country this year, to become a member of the prestigious Marquette Challenge Philanthropy Circle at the Cornerstone Society level, for contributions of over $50,000 and their continuous involvement in the Challenge for more than 10 years.
This year's TheraBall will be a hybrid event and held on Friday, November 5, 2021 from 7-11 p.m. at the Blackwell Inn and Pfahl Conference Center in Columbus.
Background
The TheraBall was created by The Ohio State University's first Doctorate of Physical Therapy (DPT) Class, in 2007, as a fundraiser for the Foundation for Physical Therapy. Every year, students from DPT programs across the country compete in the foundation's Marquette Challenge, to see which program can raise the most money in support of the foundation's research initiatives. Here at Ohio State, we hold the annual TheraBall to participate in this challenge.