Health information management and systems (HIMS) professionals are the experts who focus on the use, integrity, availability and privacy of health information to facilitate real-time healthcare delivery and make critical health related decisions for multiple purposes such as finance, law, research, and strategic planning across many types of organizations and disciplines. HIMS is a great undergraduate program for students interested in becoming marketable and pursuing a career right after graduation or for those students interested in going directly to graduate or professional school.
Mission
The mission of Health Information Management and Systems Division is to develop transformative leaders in HIM through innovative education, research, service, and practice.
Vision
To be a global leader in advancing scholarship, education and practice in health information management and systems
Strategic Goals
Provide a curriculum that prepares competent health information management practitioners for a wide range of opportunities in the marketplace and cross-trains clinical personnel in health information management
Recruit, retain and facilitate academic and professional success with a diverse student body
Foster excellence through strong relationships with alumni and other health information management professionals to continuously improve professional practice experiences and academic offerings.
Recruit, Retain and support the development of faculty who are leaders in the profession
Baccalaureate Program Outcomes
100% of students in the past five cohorts who pursued HIMS program completion (2015-2019) graduated
100% of full-time HIMS students in the past five graduating cohorts (2015-2019) completed the professional program within two years

95% of first-time test-takers in the past six graduating cohorts (2014-2019) passed the RHIA exam
Program Accreditation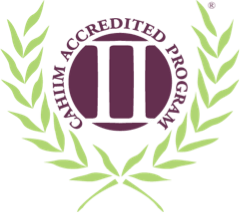 The Ohio State University is accredited by the North Central Association of Colleges and Schools. The Health Information Management accreditor of The Ohio State University's Health Information Management and Systems academic program is the Commission on Accreditation for Health Informatics and Information Management Education (CAHIIM). The College's accreditation for the baccalaureate degree in Health Information Management has been reaffirmed through 2021-2022. All inquiries about the program's accreditation status should be directed to CAHIIM at 200 East Randolph Street, Suite 5100, Chicago IL 60601. By phone: 312.235.3255 or by email: info@cahiim.org. CAHIIM serves the public interest by establishing quality standards for the educational preparation of future health information management (HIM) professionals. When a program is accredited by CAHIIM it means that it has voluntarily undergone a rigorous review process and has been determined to meet or exceed the accreditation standards.