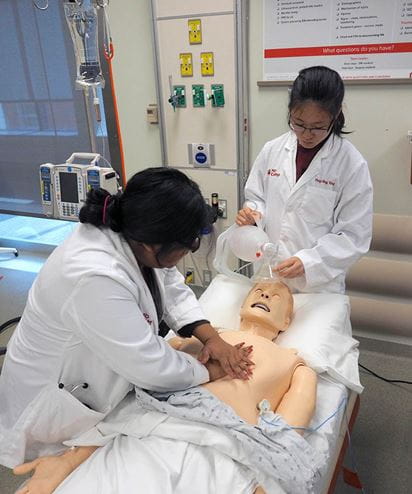 Respiratory Therapy (RT) was established in 1971 in the School of Health and Rehabilitation Sciences, as one of the first undergraduate programs in the nation. Our mission remains the same, to prepare advanced-level therapists who have the abilities to provide leadership for the ongoing development of the profession. Our program is well-respected, highly competitive and very successful. Ohio State RT Alumni are leaders in administration, education, research, professional practice and RT associations.
The new Master of Respiratory Therapy is addressing the RT needs of tomorrow, today.
According to the scope of practice defined by the AARC - An advanced practice respiratory therapist (APRT) is a skilled person, qualified by academic and clinical education to provide diagnosis and treatment of respiratory diseases and disorders to patients under the supervision and responsibility of a licensed doctor of medicine or osteopathy.
An APRT may perform medical acts, tasks, or functions in accordance with state licensing laws that are:
Related to the care of persons with problems affecting the cardiovascular and/or cardiopulmonary systems
Delegated by a supervising physician to an APRT
Within the scope of practice identified in collaboration with the supervising physician
Appropriate to the APRT's education, experience, and level of competence
Related to the prescribing, ordering, procuring, dispensing, and administering of drugs, medical care, and medical devices related to the cardiovascular and/or cardiopulmonary systems.
Master of Respiratory Therapy Handbook