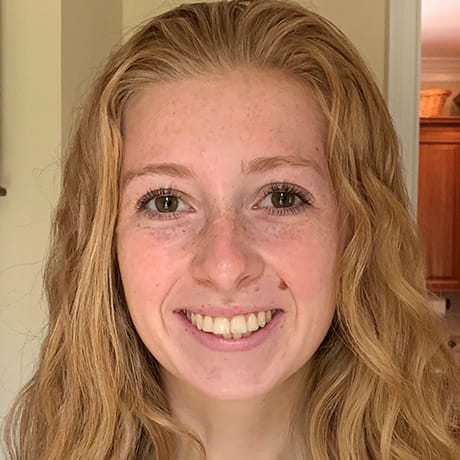 Name: Heidi M. Stook
Hometown: Trumbull, Connecticut
Major: Radiologic Sciences and Therapy, Sonography
Class of 2022
Fun Fact: I have ziplined over alligators!
Participation in honors, scholars, or conducting research: I am conducting research on musculoskeletal sonography!
Career Path: After graduation, I plan to take and pass my board exams and begin working as a sonographer! As I continue my career I would like to pursue specializations such as musculoskeletal ultrasound and fetal echocardiography.
Why did you choose your major?
I am one of 4 children! My mom was diagnosed with placenta percreta which is a pregnancy-related condition of the placenta that threatens a safe delivery. I watched her ultrasounds and heard her talk about her team of doctors and their preparations for the delivery of my brother. I loved the role the sonographer played in patient care and diagnostics. To me, sonography seemed to be right at the intersection of patient care, medical technology and important diagnoses. I was instantly interested in the profession because I love caring for patients, but I am also passionate about anatomy and physiology! I love interacting with people and I have a very caring, compassionate and gentle personality. I also love studying medicine. I chose sonography because it seemed like a perfect balance of patient care and medicine. I don't have the stomach for surgery or trauma, but I still knew I wanted to be involved in the health care field and interacting with doctors and patients. This field is largely dependent on the skill of the sonographer which challenges me to be the best that I can. Sonography is a perfect fit for my personality and career goals.
What advice would you give future students planning to pursue this major?
Freshman year, I volunteered at Riverside Hospital which gave me some patient care experience! I'm also a Teaching Assistant for a physiology course and a member of the Leadership Academy! All these opportunities have helped me pursue my career coals. I am joining a research lab this semester which will also give me research experience in the new and developing aspects of sonography such as musculoskeletal ultrasounds.
What has been the most helpful resource(s) to you at Ohio State?
Faculty. The most helpful resource for me has been the faculty. They have been instrumental in my education, but also in preparation for my career after finishing school, building a resume, gaining experience, extra study time and extracurricular opportunities, as well as sharing their own personal experience in the field!
What are you doing as a student at Ohio State that you never imagined you'd be doing?
Currently, I am in the process of joining the Laboratory of Investigatory Imaging here at Ohio State, where they have partnered with the University of Southern California to conduct research on work-related musculoskeletal injuries in sonographers. I never thought I would be pursuing research distinction, but it has been an incredible opportunity!
Do you feel you are prepared for the future of your profession?
I definitely feel prepared for the future of my profession. Everyone in HRS is dedicated to helping students succeed. I know the integration of clinical and classroom along with the high caliber of education has given me the tools I need to succeed in my profession.
What does "The future of health care begins here" mean to you?
To me, this quote means that the pursuit of excellence in the medical field begins with my education at Ohio State. The future of health care is constantly evolving. Through the work of incredible researchers in the medical field, we are constantly improving, changing and pursuing excellence. This is what makes the medical field so unique. The faculty in the School of Health and Rehabilitation Sciences encourages us to constantly improve and they are committed to preparing us to be the next leaders in health care. The future of medicine lies in the current students. Ohio State has the tools, technology, professionals and resources to prepare me to be the future of health care. Through undergraduate research, labs with new technology, knowledgeable staff and students with a passion for learning, the future of health care begins right here at The Ohio State University.