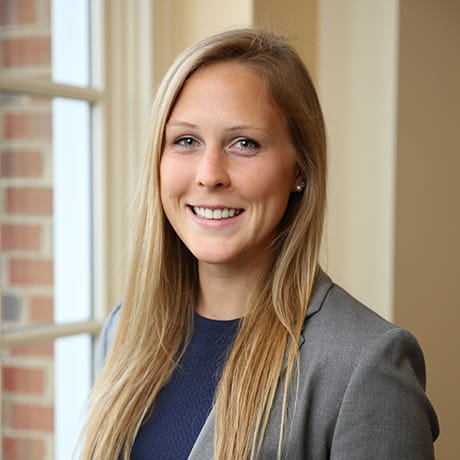 Name
: Paige M. Rombach
Hometown
: Westlake, Ohio
Major
: Doctorate of Physical Therapy
Class of 2021
Fun Fact
: I jumped off a 50 ft bridge in Switzerland into a quarry.
Why did you choose your major?:
My interest in pursuing a career in physical therapy stems from my passions of serving others, and living a healthy and active lifestyle. Specifically, a career deeply involved in Sports Physical Therapy stems from many facets of my life over the past couple years. Playing soccer at a collegiate level and experiencing physical therapy as a patient, as well as watching numerous teammates and friends recover from injuries has inspired me to strive to become that stepping stone for other athletes to help them return to their passions.
What advice would you give future students planning to pursue this major?
Seek shadowing experiences in a variety of physical therapy settings and engage with current physical therapists to ensure this is a career path you want to pursue. Seek extracurriculars involving research and service opportunities related to physical therapy to begin getting experience in these areas. Most importantly, know your "why." Look into your passions, goals and desires in life and decide what about the profession of physical therapy meets those. Personally, I have sought out opportunities in research with youth athletes during graduate school and with exercising and metabolism in undergraduate. Further, during my undergraduate experience, I volunteered as an in-home student physical therapist aid for a patient with ALS. And during my graduate school experience I volunteered with adapted sports for physically or mentally disabled participants. My personal experience as a collegiate athlete and various jobs working as a personal trainer have also aided in providing experience related to physical therapy. Ohio State's Physical Therapy program has provided countless opportunities to be involved in service and research while also providing skills and resources to generate career success.
What has been the most helpful resource(s) to you at Ohio State?
Faculty and mentorship opportunities provided through clinical experiences have been the most helpful resource here at Ohio State. Through my three years so far, I have felt immensely supported by these incredible role models. They have encouraged and inspired me to pursue various research and professional opportunities such as presenting at a national conference and applying to orthopedic residency programs. I have felt comfortable to reach out to all of my faculty, residents and clinical instructors when seeking in-clinic clinical reasoning guidance or career advice.
What are you doing as a student at Ohio State that you never imagined you'd be doing?
Before attending graduate school at Ohio State, I never thought I would have presented research at a national conference nor would I be applying to a residency to continue learning and growing after graduating with my DPT. I greatly attribute these two opportunities to my Ohio State DPT curriculum and mentorship provided.
Do you feel you are prepared for the future of your profession?
I believe my Ohio State University DPT curriculum; clinical rotations in sports medicine, acute care, and outpatient neurology; various leadership roles; and volunteer and working experiences have collectively prepared me for the future of my profession.
I have completed 8 semesters of coursework that provided foundational knowledge and skills that functionally carried over during patient care while completing my various clinicals. Additionally, my most recent elective courses were advanced sports and advanced orthopedics where I learned sport and athlete specific knowledge, and entry level manual skills and techniques. This variety of courses from the foundational ones to the most recent elective courses, provided a wide breath of knowledge that both challenged and grew my clinical reasoning and understanding. Not only do I feel prepared to treat at entry level in outpatient orthopedics, but feel I could succeed along the continuum of care from pediatrics and acute care to neurology and geriatrics as one might see in a private practice setting.
While completing my clinicals, I had the opportunity to treat a variety of patients and impairments. This allowed me to learn and grow my clinical reasoning while also providing a greater appreciation of the mindset and challenges many of my patients will face. I feel it is important to be a well-rounded clinician and understand when there are skills from other areas that could be applied appropriately to treat patients holistically and effectively.
Years of having leadership roles have greatly prepared me for my future profession. As a leader in previous roles on sports teams and within my DPT class, I have had countless opportunities in which I practiced and demonstrated initiative, a hard-work rate, efficient and clear communication, problem solving, and empathetic listening. These skills will aid me in becoming the best PT I can. Lastly, my experience working as a student physical therapist and trainer at a private practice PT clinic has especially equipped me for my future profession. Similar to what I will do as a future physical therapist, I aided in treating, rehabilitating, reconditioning, and returning the physically active population to their prior level of activity.
What does "The future of health care begins here" mean to you?
Personally, "The future of healthcare begins here" means that as an immerging physical therapist, it is my responsibility to my patients, my profession, and myself to equip myself with knowledge and implement best clinical practice to progress our future healthcare.