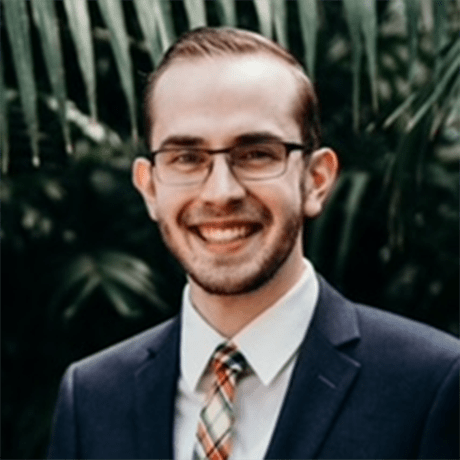 Hometown: Findlay, OH
Major: PhD in Health and Rehabilitation Sciences
2nd year PhD student
Fun fact: When I was a kid, I was able to hum the soundtrack to the original Star Wars in theatrical order.
Why did you choose your major?
Even as a PT student, I had a feeling that I wanted to pursue further education in research. On my student clinical rotations and when practicing as a physical therapist, I enjoyed the interactions and impact that I was having on my patients, but I realized that I was only ever going to be able to treat a limited number of patients. I did not have the time in the clinic to help as many people as I felt I could. I talked with many colleagues and mentors, and when I was finally connected with my advisor I saw a skillset and knowledge base that could help me improve physical therapist care and change practice. In addition, I knew that the curriculum and opportunities in HRS at Ohio State would expose me to high-level national research across multiple disciplines.
What advice would you give future student planning to pursue this major?
The best advice that I received as I was looking into starting a PhD was to talk to many different people, including current students, recent graduates, junior faculty, senior faculty, and others. I was fortunate to have a number of connections from my time as a DPT student, and I used those to talk to many people. A PhD is a rigorous degree with a number of challenging aspects, and is different from my professional training. I was able to discuss what is involved in PhD training and what the day to day perspective is. I strongly encourage other individuals considering a PhD to talk to a range of individuals, from students and graduates to possible advisors and faculty members.
What has been the most helpful resource(s) to you at Ohio State?
Some of the most helpful support has come from my fellow students in the program. While my advisor and the faculty have been fantastic resources and support, my fellow students that are going through similar experiences and tackling similar challenges have created a network of support for each other. I did not expect how much I would rely on my colleagues and how fulfilling those relationships would be.
What are you doing as a student at Ohio State that you never imagined you'd be doing?
While I expected to be busy with classes and research, I did not anticipate the variety of experiences nor the opportunities to work both within the academic side of the university but also within the medical center, where my professional skills lie. I have been fortunate to work closely with many of the professors I had during my DPT degree, and bring both the skills I learned from them together with the knowledge and skills I am gaining during my PhD training to improve the care that is provided at the medical center. I did not expect to return to Ohio State for my PhD training, but I have been fortunate to come back "home" and continue to be surrounded by excellence.
Do you feel prepared for the future of your profession?
Though it is hard to predict where my profession will go in the future, I feel that I am gaining the practical knowledge and critical thinking skills to both facilitate the change and growth that is needed and respond to wherever it will go. I feel confident that I am not just gaining skills that may become outdated, but ways of thinking and viewing the large issues within health care that will set me up to be successful across my career.
What does "The future of health care begins here" means to you?
"The future of health care begins here" means that the work that is done at Ohio State should not stop here. We have a responsibility to ensure that our work impacts health care beyond the time and space at Ohio State. We also need to progress our work and practice, ensuring that we continuously improve how health care happens.