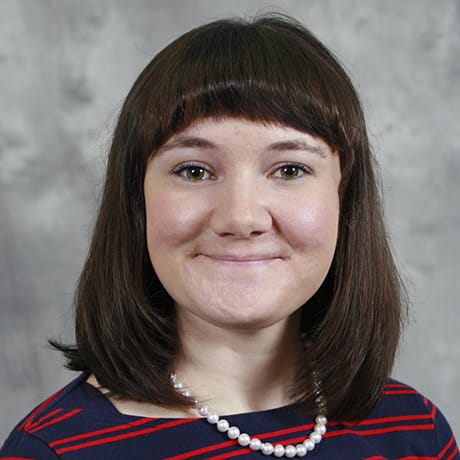 Hometown: Marietta, Ohio
Major: PhD in Health and Rehabilitation Sciences
Class of 2022
Fun Fact: I know all the lyrics to the song "Alexander Hamilton" by Lin-Manuel Miranda from the musical Hamilton.
Career Path: I want to be a faculty member in an occupational therapy program.
Why did you choose your major?
I chose my current program because of the positive experiences I had during my master's degree program at Ohio State. I knew I wanted to be an Occupational Therapist since I was in high school, and I valued the resources for research and the world renown faculty Ohio State has to offer to effectively shape my academic and clinical skills. My program is the best choice for my career pathway because I aspire to be an excellent clinician, researcher and teacher. I believe Ohio State instills rigorous clinical and academic standards in its students, and I wanted to strive to be a high-quality contributor and leader in my field.
What advice would you give future students planning to pursue this major?
I would recommend that future students do their research in identifying a mentor that will support them and help them reach their goals. The mentor-mentee relationship is so impactful to shaping your experiences as a PhD student, and it's important that you give that choice a lot of reflection, including how your interests overlap with your advisor's and the kind of mentorship style that supports your learning. Outside of academics, I've found my spirituality to be pivotal in supporting my mental health and managing stress, which assists me in meeting my career goals. The best qualities about my program are that there are many opportunities for interprofessional engagement, and that faculty are genuinely invested in helping students succeed.
What has been the most helpful resource(s) to you at Ohio State?
The advisors and faculty have been a tremendously impactful and supportive resource to me. The faculty are very willing to share their knowledge and wisdom, which is an invaluable support. Learning from their experience and mentorship helps increase my confidence and comfort, knowing that they understand what I'm going through, because they've been in similar positions themselves when pursuing their degrees.
What are you doing as a student at Ohio State that you never imagined you'd be doing?
As a first-generation college student, I never imagined I'd be pursing an advanced research degree. My experiences in my master's degree at Ohio State changed the trajectory of what I thought was possible for my career and helped give me confidence to pursue my PhD.
Do you feel prepared for the future of your profession?
I definitely feel my PhD program at Ohio State has prepared me for the future of my profession. The graduate certificate in teaching that is offered at Ohio State has increased my confidence and pedagogical skills. Involvement with a variety of research projects and opportunities to apply for research forums and grants at Ohio State, has increased my exposure and skill as a scientific researcher. The faculty at Ohio State helped provide me with experiences to be a successful researcher and professor in the future.
What does "The future of health care begins here" mean to you?
To me, this represents the responsibility the next generation of health care providers and scientists carry. We are the future of medicine and research and Ohio State's commitment to high standards contributes to that future being bright and promising.