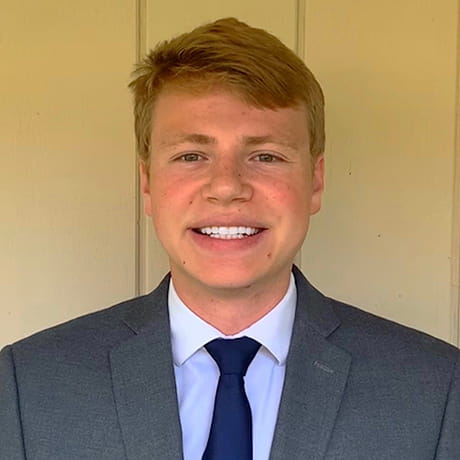 Name: Andrew T. McGirty
Hometown: Columbus, Ohio
Major: Health Information Management Systems / Pre-Law
Class of 2022
Fun Fact: My uncle is a surfing instructor.
Career Path: My next step is law school.
Why did you choose your major?
During my freshman year at Ohio State, I was a Neuroscience major on a Pre-Medicine path. However, after careful reconsideration of my various interests and continuous disengagement with many of my classes, I decided to explore other career paths. Understanding that I still wanted to stay within the health care field, I settled upon Health Information Management Systems (HIMS), due to its tethering of my passion for health care and my professional goal of law and policy. The HIMS curriculum accentuated this dualistic nature of wanting to learn the underlying systems of health care as well as lending the opportunity to build upon this knowledge for my future in law school.
What advice would you give future students planning to pursue this major?
A prospective HIMS student should duly consider connecting with current students and faculty to discuss their interests within the program, as there are so many different paths to consider. Further, I would highly suggest exploring job opportunities within your field of interest. The HIMS program offers extreme flexibility to get a head start on pursing professional interests, allowing enough time for students to work during the school year.
What has been the most helpful resource(s) to you at Ohio State?
During my progression of major and career switches, I have found that reaching out to faculty members of the prospective program has offered me the most help in understanding what information is important and giving me a candid representation of work that may be required. When transitioning into HIMS, I reached out to the program director and we set up a meeting to just discuss my interest in the major. She went above and beyond to help we with the application process and continues to play a part in my success within the program.


What are you doing as a student at Ohio State that you never imagined you'd be doing?
Currently, I am performing research for the Moritz College of Law, examining how the Covid-19 pandemic and other colliding epidemics have impacted first responders. This experience has been very eye-opening and provides my valuable insight on the overwhelming but necessary nature of conducting a large-scale research project.


Do you feel prepared for the future of your profession?
I feel absolutely prepared for my immediate future in law school as the HIMS curriculum contains classes that deal with the legal profession as well as provides me with similar academic rigor that I may be faced with in the future. Moreover, past law school, the wide breath of material I am learning in my current classes, I truly believe will prepare me for any specialization within health care that I choose to take.


What does "The future of health care begins here" mean to you?
The future of health care begins here means that an army of motivated students are on the verge of metaphorically breaking the seal on the limitless potential of knowledge that can systematically rewrite the way health care is performed in the future.