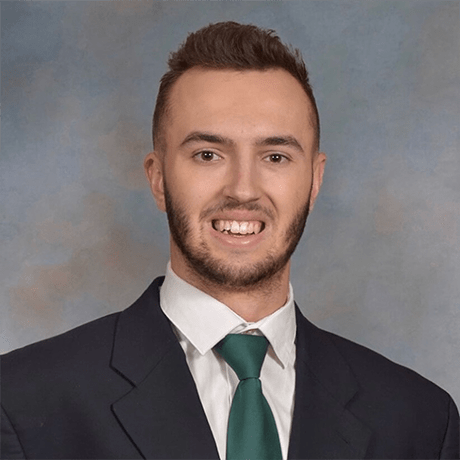 Hometown: Cincinnati, Ohio
Major: Respiratory Therapy
Class of 2022
Fun Fact: I spent a summer in Germany and have been white water rafting
Career Path: Registered Respiratory Therapist
Why did you choose your major?
Growing up, I was certain I wanted to be a part of the health care field unknowing which discipline to pursue. After spending my first year at Miami University, I decided to transfer to Ohio State as a pre-health and rehabilitation major due to the increased number of health care-related fields. I chose Respiratory Therapy (RT) after witnessing firsthand the passion and care therapists can provide for their patients in all settings. I joined HRS to treat and provide the care all patients deserve while making a positive impact on someone's day. Respiratory Therapy has been a field allowing me to do this and so much more.
What advice would you give future students planning to pursue this major?
Don't be afraid to reach out to the various faculty members or students currently enrolled in the program to learn more about the field or application process. Education and background in a field are critical when deciding what major to pursue and current students are a great resource for this information. RT is a relatively new health care field but continues to grow substantially in the hospital setting with a growing need for therapists in the future. I enjoy the small class sizes this program has to offer allowing students to truly connect with faculty and other students becoming family throughout the program.
What has been the most helpful resource(s) to you at Ohio State?
Advisors. Faculty. HRS Mental Health Counselors.
The most helpful resource for me has been the faculty. Often when transitioning from a student to a health care professional, some situations and environments can take a significant toll on one's mental health. The RT faculty know this and go extra lengths at any hour of the day to create a safe and open dialogue for students to share their experiences that close friends and family may not be able to relate to. I have also found my advisors to be a great resource helping me explore the different majors HRS has to offer to guide me through the application process and any prerequisites that may need to be completed before applying to majors.
Other helpful departments on campus – University Exploration, Dennis Learning Center, Younkin Success Center, Counseling and Consultation, Student Health Services, S.T.E.P (Second-year Transformational Experience Program) and ODI (Office of Diversity and Inclusion) to name a few.
What are you doing as a student at Ohio State that you never imagined you'd be doing?
I never imagined I would become a Basic Life Support (BLS) Instructor, teaching adult/infant CPR courses to other HRS professions. As a senior, it was great getting to learn and chat with other HRS majors (shoutout PT students) certifying them in BLS from the American Heart Association. I also never thought I'd be involved in conducting research as part of my senior project. Progressing through school, I always found research dull and tedious; however, after participating and conducting my own, I have a newfound appreciation for the topic.
Do you feel prepared for the future of your profession?
I feel extremely prepared for the future of Respiratory Therapy due to the program's foundation and the uncertainty of COVID. The RT program has given me confidence in providing evidence-based respiratory care along with research comprehension/participation and interprofessional collaboration. Along with this the changes many HRS students had to endure from COVID whether it be the method of class delivery, clinical schedule, quarantining, etc. provided me and all other students with adaptability and flexibility, both useful in an ever-changing health care environment.
What does "The future of health care begins here" means to you?
To me, this means we have the opportunity to revolutionize and transform the field of health care. We can do this by not only providing the highest quality care possible but also with an experience and attitude best suited for each patient. Ohio State is a national leader in the quality of care provided allowing for ambitious future healthcare professionals to grow and become trendsetters within their respective fields. I am blessed to be a part of this field and allowed to provide care for loved ones and those affected by the COVID-19 pandemic.