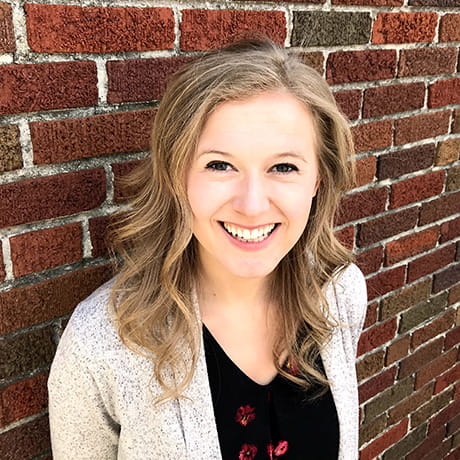 Hometown: Hilliard, Ohio
Major: Master of Dietetics and Nutrition
Class of 2022
Fun Fact: I previously taught arthritis relief fitness classes for older adults. It was so much fun!
Career Path: Registered Dietitian Nutritionist in the hopes of working as a clinical dietitian and public health dietitian.
Why did you choose your major?
I graduated from The Ohio State University with a bachelor's degree in Nutrition Science in 2016. From there, I worked for the YMCA of Central Ohio in their Chronic Disease Prevention Department, leading Diabetes Prevention Classes, as well as other evidence-based programming. It was there I learned that I loved group nutrition classes, seeing my participants make behavior changes that impacted their health in a positive way and connecting people to resources. I knew I wanted to learn medical nutrition therapy skills to practice dietetics and make evidence-based recommendations to meet any patient's needs. After my time at the YMCA, I worked for the City of Columbus, gaining an appreciation for the ways that policy and public health services work to meet community and individual needs. Dietetics and nutrition touches everyone's lives because everyone needs to eat. It is so wonderful that the things I am learning in classes are just as applicable to my life as they are to the people I will serve daily. Dietitians are uniquely equipped to help people reach their goals by preventing chronic disease and treating specific disease states through dietary changes. Gaining foundational knowledge about medical nutrition therapy will assist me as I aim to work within the public health realm as a dietitian.
What advice would you give future students planning to pursue this major?
My advice would be to ask questions and seek help when you need it. Your professors want to help you succeed! Additionally, take the time to volunteer and network with professionals in your area of interest. It is worth your effort to meet people already working in your field of interest and to ask about the depth and scope of the work that they do; this process will help inform your decisions and set you up for success when you are looking for the next step in your career.
What has been the most helpful resource(s) to you at Ohio State?
The most helpful resources and support have come from the faculty and teaching assistants. HRS faculty have always been willing and ready to answer my questions. The advisors have been a sounding board for different paths and ideas as I was researching program options. The guidance of my program leaders are why I am here studying Dietetics and Nutrition, and I am thankful.
What are you doing as a student at Ohio State that you never imagined you'd be doing?
As an MDN student at Ohio State, I am getting more realistic simulation experiences than I thought possible. Although simulation of a patient care experience can be intimidating at first, it is a great way to prepare me for interactions I will have with patients and clients in the future as a clinician. As students we are also given the opportunity to volunteer and intern for various organizations around Columbus, gaining exposure to job opportunities.
Do you feel prepared for the future of your profession?
Yes, the MDN program provides learning opportunities that are cohesive and foundational to real-world dietetics and nutrition practice. Students are learning from world-class faculty that care about their students growing in both knowledge and skill. The supervised practice rotations allow students to practice their medical nutrition therapy skills under the supervision of dietitians in various work settings throughout the Columbus area and give them a broad experience base.
What does "The future of health care begins here" mean to you?
"The future of health care begins here" means that education is where health care starts, but not where it ends. We need knowledgeable health care professionals that are collaborative and empathetic while meeting the needs of all the people we serve.