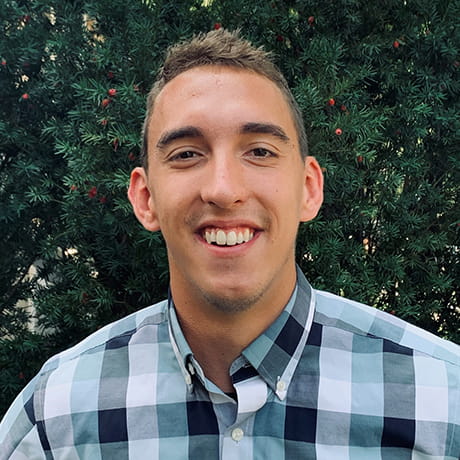 Name: Dan G. Gilmore
Hometown: Springboro, Ohio
Major: PhD in Health and Rehabilitation Sciences
Class of 2023
Fun Fact: I am a triplet. And I have a BS in Medical Dietetics and an MS in Health and Rehabilitation Sciences – both from HRS. I'm also a Registered Dietitian Nutritionist.
Why did you choose your major?
Medical Dietetics was my first choice for a major. From a very young age, I knew that I would one day work in healthcare, but for years I didn't know in what capacity. When I learned about HRS, I knew immediately that Medical Dietetics was the right choice for me. Even before I began the program, I was relatively aware of the immense importance of nutrition for health. However, I wanted to know much, much more. I chose Medical Dietetics so that I could become a nutrition expert and effectively teach people about the critical role that nutrition plays in the prevention and management of myriad types of diseases. As a Registered Dietitian I knew that I could play an indispensable role on the healthcare team, helping people to achieve optimal health outcomes and even a better quality of life via their nutritional choices.
Why do you believe your major was the best choice for your career pathway?
Medical Dietetics was a rock-solid foundation for my career aspirations of working in academia in the health sciences. In the Medical Dietetics program, I learned crucial skills that prepared me to be a competent clinician, and even to be a mentor to students. I also was given a foretaste of how to conduct high quality research, and I learned to effectively implement research into practice. In concert, these experiences have provided me a firm base on which to build to achieve my career goal of being a leading researcher and educator in the field.
What advice would you give future students planning to pursue this major?
For a student planning to major in Medical Dietetics, my advice would be to investigate the field. Dietitians can work in many different settings and having an understanding of different practice settings is a valuable foundation to have before you start. Additionally, I would recommend that students shadow at least two practicing clinicians to gain an understanding of their work, and to solidify the decision to pursue the major. Finally, I would recommend that interested students start to volunteer in the community, perhaps at a local food pantry or community organization. Such settings commonly offer nutrition programming that is relevant to content that will be learned in the Medical Dietetics program.
What has been the most helpful resource(s) to you at Ohio State?
HRS is a supportive environment as a whole; however, the guidance and support of my advisor has been especially wonderful. It can be challenging to navigate a professional program and stay up to date with classes and other requirements. Your advisor will be more than happy to assist with these sorts of things. Additionally, I have found my relationships with various faculty members to be wonderful resources. As seasoned clinicians and educators, each of them is a wealth of valuable knowledge and insight who can provide guidance as you move through the program and clarify your goals.