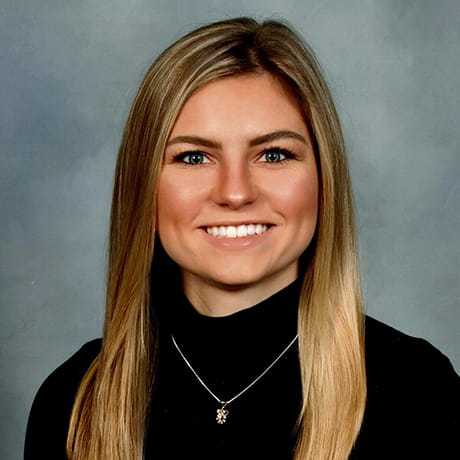 Hometown: Monclova, Ohio
Major: Master of Dietetics and Nutrition (MDN)
Class of 2022
Fun fact: I named my Golden Retriever after a Seinfeld character
Career path: Registered Dietitian Nutritionist
Why did you choose your major?
I chose to study dietetics and nutrition because it was the perfect way for me to combine my passions; science and helping others. I'm fascinated with nutrition science and love that my degree will help me share my expertise with others. I personally can't imagine having a career path in anything else.
What advice would you give future students planning to pursue this major?
My advice for students who want to pursue a career in dietetics and nutrition is to never stop learning. Nutrition is a relatively young science, and there is so much yet to be discovered. The coursework and expectations can be challenging at times, but the hard work is worth the result. Keep questioning things and continue to grow!
What has been the most helpful resource(s) to you at Ohio State?
The faculty in the MDN program offer an amazing amount of support for their students. They take the time to get to know us, learn about our career objectives and use that to help give us the best possible learning experiences that are relevant to our goals. The faculty have an incredible wealth of knowledge and are driven to help their students succeed, which has had a positive impact on my ability to thrive in this program.
What are you doing as a student at Ohio State that you never imagined you'd be doing?
I never thought that I would be getting real-life experiences in so many different areas. I have had rotations in hospitals, diabetes clinics, food pantries and more. The variety in the places I've gotten to intern with have helped me to become a more well-rounded student and have taught me things you won't always get from a classroom. The rotations I've been through have been crucial to my success.
Do you feel prepared for the future of your profession?
My classes, rotations and professors have all helped me to develop a strong foundational knowledge of my profession and have equipped me with the skills I need to begin practice as a competent RDN. I am always learning something new every day. I feel confident that having that strong foundational knowledge will help me prepare for and navigate future changes in my field. The amount of professional growth I've experienced over this past year is something I didn't know was possible, and I would recommend the MDN program to anyone who is wanting to pursue a career in dietetics and nutrition.
What does "The future of health care begins here" mean to you?
To me, this phrase means that everyone has the ability to make a positive impact on others. This university strives to create an environment where we are all constantly working towards providing the best care possible for our patients.