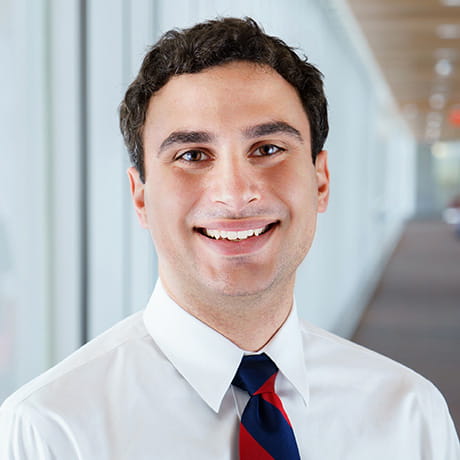 Hometown
: Pittsburgh, PA
Major
: PhD in Health and Rehabilitation Sciences
Academic Year
: PhD Student – Pre-candidacy
Fun Fact
: I've been to Europe three times and visited Italy each time. This last time, we rented a car and drove through the hills of Umbria and Tuscany and it was one of my favorite trips so far.
Why did you choose your major?
I chose my career path early on in my education. While in high school, I learned of medical physics through a career day. I was immediately interested in pursuing it as my career. I ended up as a physics major in undergrad and then pursued a MS in medical physics at Vanderbilt University. After clinical residency training, I joined the physics group at The Ohio State University Wexner Medical Center. Obtaining a PhD has been a goal of mine since starting my education and participating in an academic department as a clinical physicist only further solidified that. I started searching for academic programs that would allow me to link my interests of clinical care of patients, information management, and machine learning. After meeting with faculty and staff in HRS, I realized that my interests were aligned with that the of the HRS program and that of my now advisor, Dr. Emily Patterson. My current educational path is a direct result of where I want to end up, pursuing a career in academia. HRS provides a significant amount of training in areas that are new to me, such as grant writing and others that are important to my field, such as interdisciplinary projects.
What advice would you give future student planning to pursue this major?
For future students interested in pursuing a PhD in Health and Rehabilitation Sciences, I would be sure to network with individuals within your specialty, but also be sure to connect with those outside of your specialty. Some of my most interesting and fascinating projects have stemmed from hearing what others are doing in field that is not directly connected with my own. It is often too easy to get laser-focused and forget that there is a giant world out there. Additionally, being active in your professional society or some network of like-minded individuals who provide support and a platform you can bounce ideas off of is a great benefit.
What has been the most helpful resource(s) to you?
HRS has been a wonderful home for me. The faculty, students and staff support each other extremely well and are always willing to help. Having a friend and colleague who just received her PhD and discussing with her the supportive nature of the HRS program, she was blown away because it is truly unique. Specifically, starting with my first meeting with Dr. Agnew and Ashley McCabe and was feeling out the program for fit, the support and openness were a huge asset. Then meeting with Dr. Patterson and seeing the passion she had for her field as well as for mentoring students, it was evident that it was a great fit in both directions.
What are you doing as a student at Ohio State that you never imagined you'd be doing?
As a PhD student in HRS, I never thought I would be exposed to so many different areas of science in such a short period of time. HRS is such a unique and diverse school that it offers a home to so many different specialties and researchers of varied interests. HRS does a wonderful job of using course work as a way to introduce faculty to students and vice versa. Learning about the different work that is on-going within the program makes it that much easier to collaborate.
Do you feel prepared for the future of your profession?
At this point in my education, I feel as though the PhD program in HRS is preparing me for a career in academia in a unique way. Often, medical physicists will receive their PhD in medical physics from schools where they are taught by other physicists. HRS is providing me a unique perspective on interdisciplinary research, grant writing and introducing me to a variety of people that I would never have the pleasure of getting to know.
What does "The future of health care begins here" mean to you?
To me, "The future of health care begins here," means that the School of Health and Rehabilitation Sciences recognizes that its students are those who will go on to be leaders in each of their respective fields and that the faculty and staff take seriously their obligation to provide the best education possible.