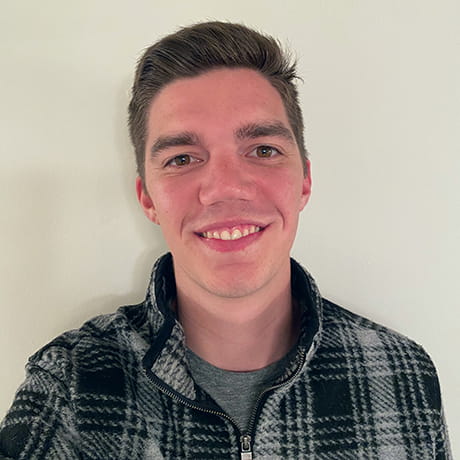 Name: Joshua Winston Barrus
Hometown: Willoughby, Ohio
Major: Radiologic Sciences and Therapy, Radiation Therapy
Class of 2021
Fun Fact: I've been to 25 U.S. National Parks
Career Path: Medical Dosimetry
Why did you choose your major?
My academic career did not begin in Radiation Therapy. I came to Ohio State as an engineering major, hoping to use my affinity for science and technology to land in a stable profession. I realized in my first semester that I wasn't getting the personal connection that I was looking for in a career, and I started to look for career paths with opportunities to help people more directly. After considering degrees in Biology and Nursing, I stumbled across the Radiation Therapy program. After doing some research, it turned out that Radiation Therapy had the perfect balance of science and technology with patient care, that I was looking for. In this field, I'm able to see my patients on a daily basis and form personal connections with them, while using cutting-edge, rapidly evolving technology to treat cancer. In Radiation Therapy, I found a field that was both intellectually stimulating and personally rewarding, and I couldn't be happier with my choice.
What advice would you give future students planning to pursue this major?
Finding qualified, well-rounded students is one of the main goals of the admissions process for the Radiation Therapy program, so it always helps to get involved outside of class. During my time at Ohio State, I have been a member of the Men's Glee Club, have worked in Residence Life, and have participated in other service and outreach events. As a student, it's important to think of yourself as doing more than just taking classes to earn a degree; Radiation Therapists are part of a much larger group of medical professionals that have an impact both inside and outside of the clinic. Taking advantage of opportunities to make this kind of impact can not only help with your chances for admission, but help you become a better provider for your future patients. The faculty in the Radiation Therapy program are outstanding, and the clinical coursework allows you to work hands-on with some of the most advanced medical technologies and cancer treatment techniques in the world. The opportunities to form personal relationships with experts in our field are invaluable, and the positive impact we have on our patients makes all our work worthwhile.
What has been the most helpful resource(s) to you at Ohio State?
The Radiation Therapy faculty, Ruth and Todd, are both incredible resources and will guide you along your entire journey toward becoming a Radiation Therapist. With around 10-12 students per graduating class, Ruth and Todd get to know you very well as an individual and can tailor your education to your needs. Whether you are developing your skills as a student, looking for jobs near graduation or exploring graduate school, they are very supportive and will be with you every step of the way. Throughout my undergraduate career, I've also used many services that Ohio State offers such as Student Health Services, the Younkin Success Center and Counseling and Consultation Services. Ohio State has plenty of free resources to help you succeed and I highly recommend taking advantage of them while you're here!
What are you doing as a student at Ohio State that you never imagined you'd be doing?
Even as a senior preparing to graduate, I am still in awe at the incredible work that I'm able to do in my clinical practice. Having the opportunity to operate high-tech machines and perform complex treatment procedures to treat cancer is a lot of fun, and I always surprise myself with how much my skills have developed since starting the program. Curing cancer is often seen as the zenith of modern medicine; a goal that has prompted enormous fundraisers, continuous research and social movements. Playing such a significant role in treating and curing cancer for so many patients is something I never thought I would be able to do, and it is a privilege to have this opportunity every day at Ohio State.
Do you feel prepared for the future of your profession?
Absolutely. Ohio State is a huge institution with lots of resources, which means that the cancer care that we participate in here is some of the best in the world. Nearly every day, we see patients who are participating in clinical trials that test out new techniques for treating cancer with radiation. Ohio State is also planning to build a new Proton Therapy center and is currently spearheading new research in FLASH radiotherapy, a revolutionary new idea for radiotherapy with the potential to change everything we know about how radiation affects the body. Not only do I feel that I am prepared for the future of my profession, but I know that I am participating in that future as a student at Ohio State.
What does "The future of health care begins here" mean to you?
I think it's common for us to think about 'research' and 'innovation' as something that happens in faraway hospitals by inaccessible experts, and that we are simply responding to the evolution of health care as it happens. At Ohio State, those experts are here, and groundbreaking developments in health care are happening in our own backyard. As students at Ohio State, we not only learn from the experts who are creating the future of health care, we are active participants in making this future possible. In short, "the future of health care begins here" means that the future of health care is us. At Ohio State, we are preparing to take on the vast knowledge we inherited from the professionals who came before us and use it to create a better world for our patients, ourselves and for the generations of students still to come.