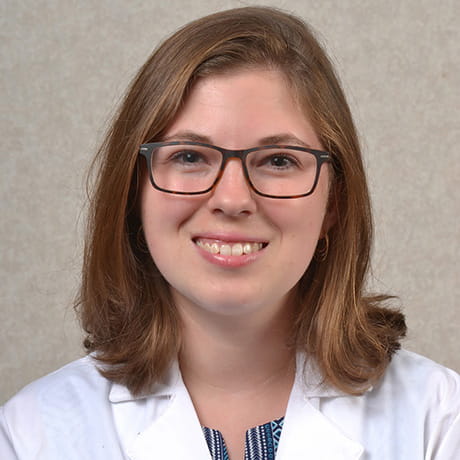 Name: Sarah E. Anderson
Hometown: Kutztown, Pennsylvania
Major: Dual Degree – Occupational Therapy Doctorate/PhD in Health and Rehabilitation Sciences (OTD/PhD)
Specialization: Virtual Interactive Technologies in Rehabilitation (e.g., virtual reality)
Class of 2019 OTD and currently a 2nd Year PhD student
Fun Fact: My eyes are heterochromatic and dichromatic (green/hazel and blue/brown)
Career Path: Completing a post-doc position is next, then I would like to work in academia long-term, conducting research and teaching. I'm also considering working in industry, probably with a technology developer.
Why did you choose your major?
I chose to attend Ohio State because it was one of the few OTD programs available and it had the option to pursue a dual degree PhD, which I was curious about. I also really enjoyed meeting the faculty during my interview and was engaged by their passion, expertise and interests. I was fortunate to be involved in research soon after starting the program and grew to really love it. During my second year in the OTD program I applied to the PhD program and was accepted. I really appreciate being able to collaborate and interact with peers and mentors from a variety of different professions with different backgrounds and areas of interest.
What advice would you give future students planning to pursue this major?
It is important to be curious, resilient and have some passion. If something isn't a great fit, actively try to identify what your interests are and seek out people and experiences that can help facilitate your growth in that area. Don't get discouraged because graduate school, clinical intervention, research and education are all long processes with some ups and downs. In the end you will learn that you have traveled further than you thought. Having a good support system both in and out of the program is very important to working through setbacks and celebrating victories.


What has been the most helpful resource(s) to you at Ohio State?
Advisors – My advisor, Dr. Amy Darragh, is wonderful. I would not be in the PhD program or pursing my passion without her mentorship and continued support. She truly cares about my success and interests in the program and beyond and has been my most valuable resource.
Faculty – I feel very fortunate to have made connections and found mentors in many other HRS (and outside of HRS) faculty as well. Each one helps me grow and become a better clinician, researcher, and educator, and they truly do care about students. The faculty have been my next most-valuable resources.
Other academic departments on campus – University Exploration, Dennis Learning Center, Younkin Success Center, Counseling and Consultation, Student Health Services, S.T.E.P (Second-year Transformational Experience Program), ODI (Office of Diversity and Inclusion), etc.
What are you doing as a student at Ohio State that you never imagined you'd be doing?
I never thought I'd be doing scientific research, teaching or be in a PhD program, but I've been able to do all of these. I'm able to explore my passion and collaborate with leaders in my field.
Do you feel you are prepared for the future of your profession?
I still have a lot to learn, but I'm confident that I will be prepared for academia, industry or wherever the road takes me in the future. I'm developing great foundational skills and relationships that I'll continue to build on moving forward.
What does "The future of health care begins here" mean to you?
"The future of health care begins here" means that HRS is and will become the leader in health care innovation. For me that means more diverse collaborations, highly innovative education and highly innovative research. With my personal interest in virtual reality technologies, I see great value in the work I'm doing and direction I'm taking, with support from HRS. I can see myself making a difference within my HRS community to help bring HRS into the future of health care.