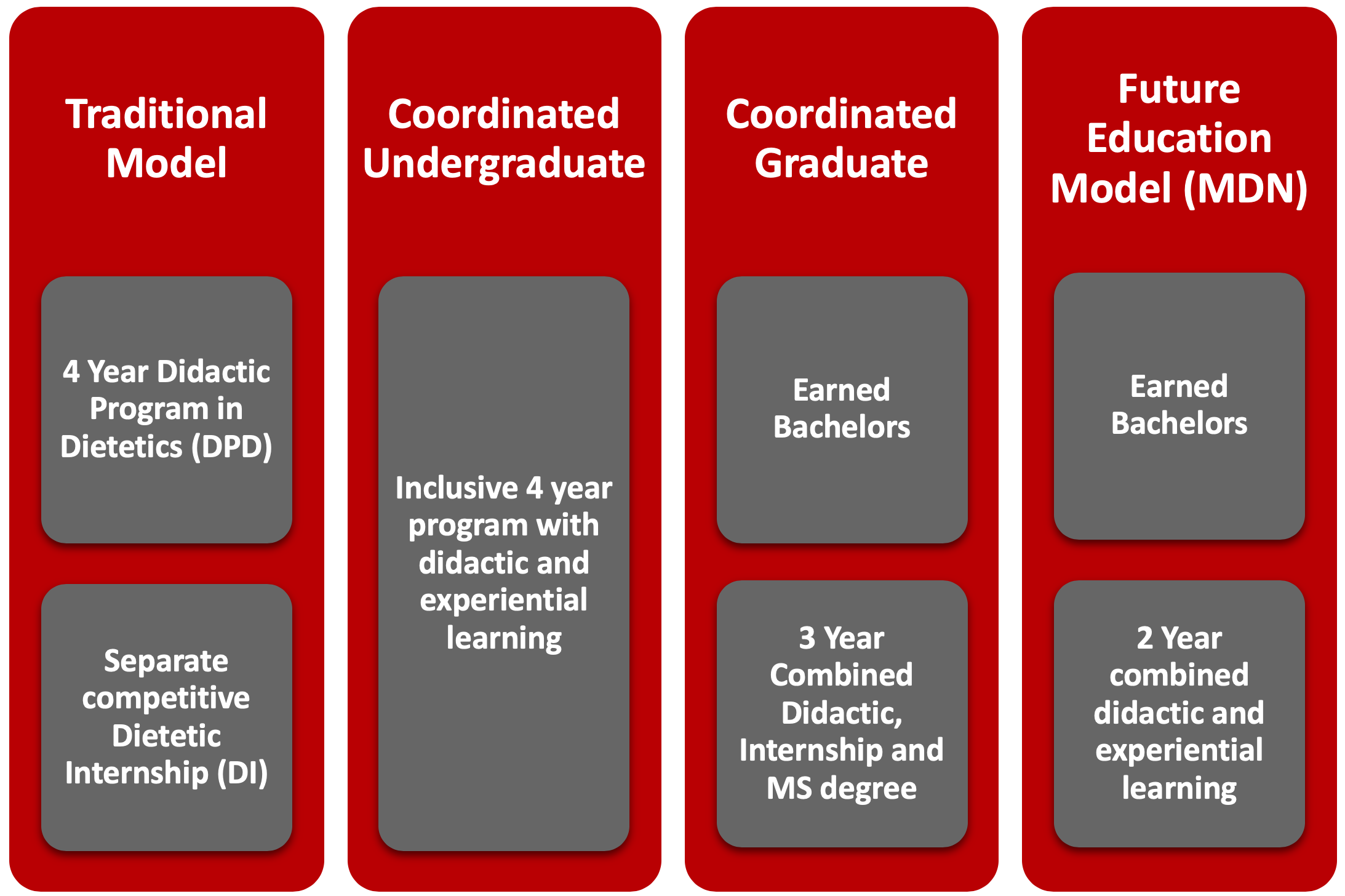 The
Coordinated Graduate Program
combines the coursework with the internship requirements so students are eligible to take the national dietetics registration exam upon graduation. This program is designed for students who have a degree in a non-dietetics field and would like to pursue a dietitian's registered-eligible program at the graduate level. This program is no longer accepting applications, however, interested students can apply for the new
Master of Dietetics and Nutrition Program
.
Medical Dietetics also offers a combined masters internship program for dietetics students who have graduated from a didactic program in dietetics. Students can pursue their areas of interest through their masters' program while continuing their dietetics education. Students are eligible to take the national registration examination upon completion of their graduate degree. The final DICAS matching for the MS/DI program will occur during the February to April 2020 application.
The last program offered by Medical Dietetics is a Master's degree in clinical nutrition. This degree is specifically designed for the practicing Registered Dietitian Nutritionist to return to school to further their knowledge. Students may select from a variety of courses to augment a degree that investigates critical care nutrition, community nutrition, metabolic disease, and clinical management.
The Future of Medical Dietetics Starts Here
The new
Master of Dietetics and Nutrition degree program (MDN)
in collaboration with the
College of Education and Human (EHE)
, is designed to be a two-year coordinated program to meet entry level requirements to become a Registered Dietitian Nutritionist (RDN). The Commission on Dietetic Registration (CDR) which is the credentialing body for the RDN credential is requiring candidates to have a graduate degree by the year 2024. The Ohio State University MDN will serve as a pilot program for the future graduate model for dietetics education. This model will combine graduate level coursework with multiple internship experiences in one degree. Upon successful completion, the graduate will be able to take the credentialing exam to become a RDN.
Master of Dietetics and Nutrition FAQ's
Master of Dietetics and Nutrition FAQ's
Is there a specific undergraduate major that I need to be eligible to apply to the new MDN program?

Will the undergraduate degree in Medical Dietetics still be available after the changes have been implemented for the MDN?

I will have a degree and verification statement from an accredited DPD program. Can I still apply for the MDN?

If I am interested continuing for a PhD, what options do I have with the MDN?

Does the MDN require me to complete a thesis project?

In 2024, will I be required to get a Masters degree if I'm already an RDN?