Medical Dietetics Graduates help the world achieve optimal health through better nutrition - one meal at a time.
Registered Dietitian Nutritionists (RDN) are food and nutrition experts. They assess nutritional needs, provide nutrition intervention and help individuals prevent and manage disease through informed nutritional practices. Dietitians are registered and licensed to provide Medical Nutrition Therapy to groups and individual nutrition counseling and serve as nutrition consultants to other healthcare professionals.
Ohio State's Undergraduate Coordinated Medical Dietetics Program provides students with a strong science background as well as a set of diverse practical and professional skills. Students learn the principles of nutrition for all age groups, then apply that knowledge to medical nutrition therapy, leadership and management, communication and inter-professional teamwork.
The Graduate Coordinated Medical Dietetics Program is designed for students who have a degree in another area and would like to pursue a dietitian's registered-eligible program at the graduate level. Medical Dietetics also provides a Master of Science Combined Dietetic Internship Program for dietetics students who have graduated from a didactic program in dietetics. The interns can pursue their areas of interest through their master's program while continuing their dietetics education in an exciting internship. The final program offered by Medical Dietetics is a Master of Science in Clinical Nutrition. This degree is specifically designed for the practicing dietitian to return to school to further their knowledge. Students may select from a variety of courses to augment a degree that investigates critical care nutrition, nutritional genomics, community nutrition, and clinical management/leadership development.
The Future of Medical Dietetics Starts Here
The new Master of Dietetics and Nutrition degree program (MDN) is currently under development in collaboration with the College of Education and Human (EHE). This program is designed to be a two-year coordinated program to meet entry level requirements to become a Registered Dietitian Nutritionist (RDN). The Commission on Dietetic Registration (CDR) which is the credentialing body for the RDN credential is requiring candidates to have a graduate degree by the year 2024. The Ohio State University MDN will serve as a pilot program for the future graduate model for dietetics education. This model will combine graduate level coursework with multiple internship experiences in one degree. Upon successful completion, the graduate will be able to take the credentialing exam to become a RDN.
Look for more details coming soon.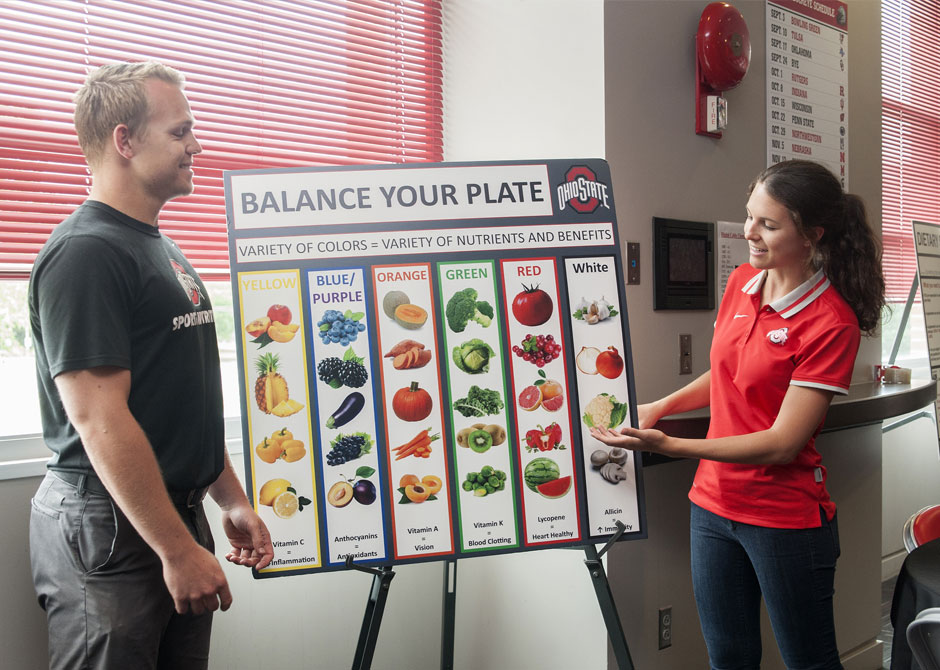 Small Classes individual attention
From day one, Ohio State medical dietetics students have the advantage of small class sizes that permit plenty of individual attention and mentoring from faculty and staff.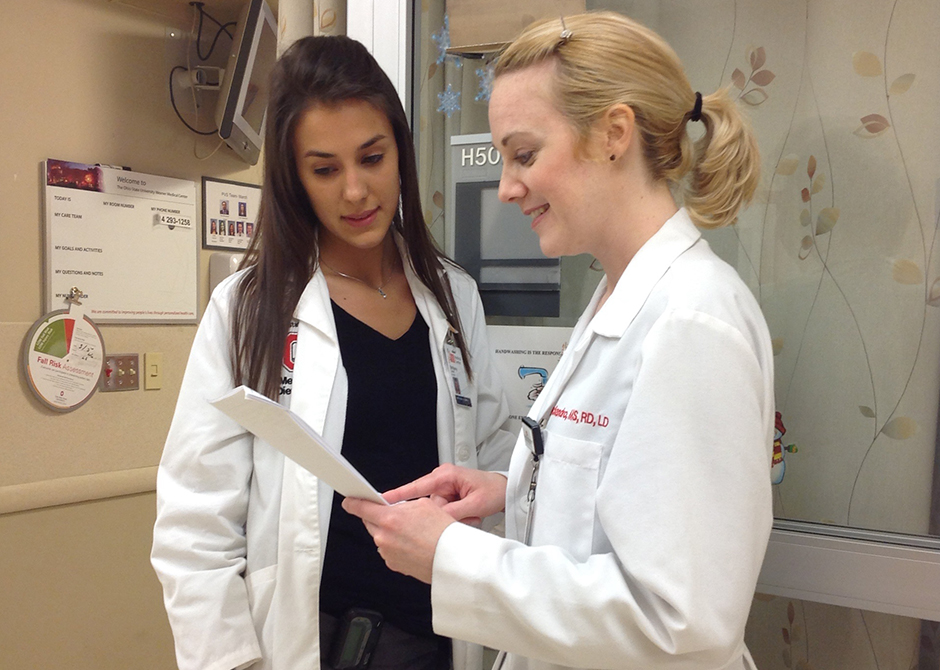 Bench...Bedside...Beyond
We provide translational and interdisciplinary collaborations for all students. Our students can be found harvesting produce with cancer survivors, designing menus for children with chronic disease, providing sports nutrition counseling for OSU athletes, participating in simulations and interprofessional training, conducting research, teaching at food pantries and schools, working in state-of-the-art medical facilities or alongside industry and corporate experts.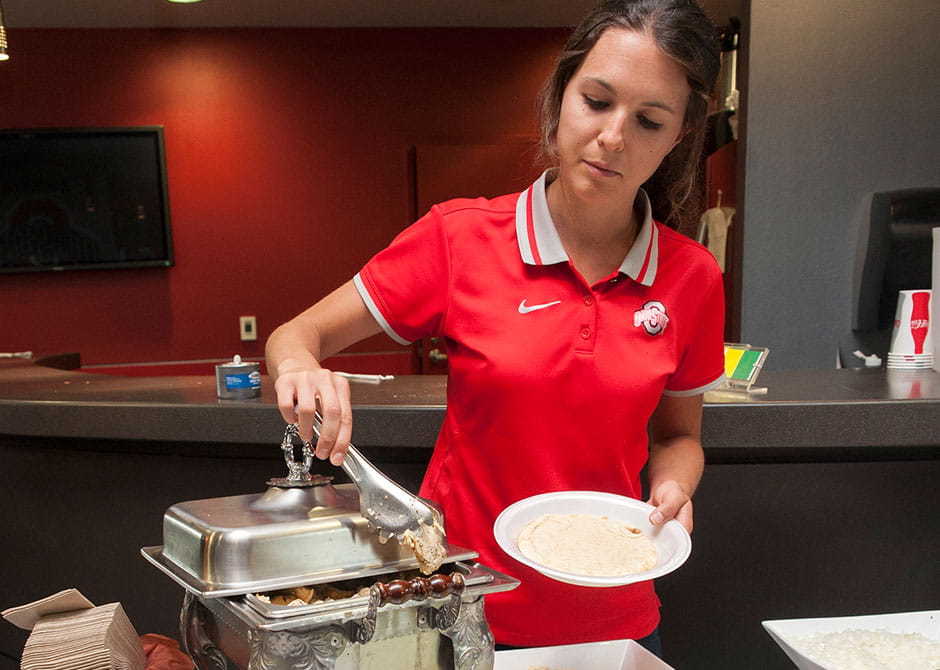 Preparation for advanced education and research
Our medical dietetics program is just the starting point for many academic careers. This major is designed to provide a strong undergraduate preparation for those students who want to pursue a career in research or further education in medicine, public health or nursing.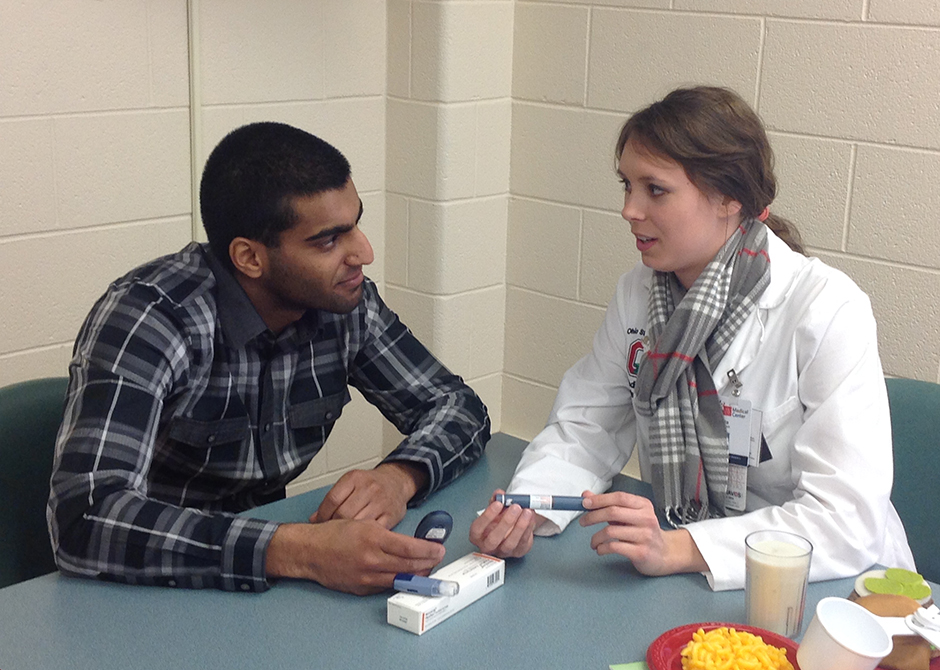 Strong career opportunities
Food is medicine! Nutrition is an essential component of treating and preventing disease. That translates into an excellent job market for Registered Dietitian Nutritionists that is expected to grow by 16 percent by 2024. In 2015, the annual median wage for Registered Dietitians was $58,000.