Ohio State Athletic Training is a flagship program with a well-established international reputation for excellence. Our graduates' board exam performance consistently places us in the top tier among programs nationally and there are few programs that can offer the variety and quality of opportunities that you will find here. While we have a competitive program, this is also a program where everyone knows you by name and every instructor is invested in your personal and professional success. Come join our legacy of excellence and leadership in the field.
Mission
Our mission is to provide exceptional education; to deliver outstanding patient care; to define the practice of Athletic Training through research and scholarship; and to improve the world around us through leadership and service.
Vision
Our vision is to work as a team shaping the future of Athletic Training through teaching, mentoring, discovering, creating, caring, serving and leading.
Values
Our values serve as a compass for our actions and describe how we conduct ourselves.
EXCELLENCE – we are not satisfied with mere competence but instead strive to reach our maximum potential.
INTEGRITY – we do things the right way, even when it isn't the easy way.
ACCOUNTABILITY – we accept responsibility for our decisions and actions and are answerable for them.
LEADERSHIP – we work to create, share and realize a vision for the future.
INNOVATION – we are not limited by conventional wisdom but look to create a better way.
TRADITION – we honor our proud heritage and carry-on the legacy of those who went before us.
SERVICE – we "pay it forward", giving our time, effort and expertise to improve the world around us.
COMMUNITY – we value and respect all people, seeing our differences as strengths we can leverage to make us better and help us achieve our common goal.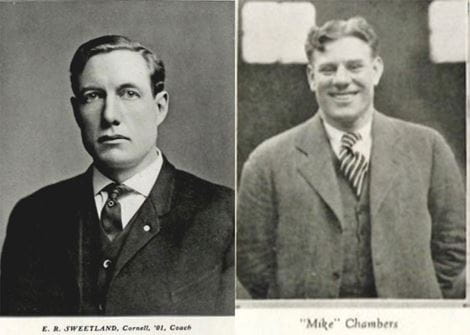 A culture of excellence for more than a century
Our history goes back to 1904 when Edwin Sweetland was hired as Ohio State's first "Trainer", head football coach and track coach! The first course in Athletic Training was offered in 1928 by head athletic trainer Mike Chambers and team physician Walter Duffee. Our legacy includes 10 members of the NATA Hall of Fame, 19 members of the OATA Hall of Fame, and numerous other award winners, state and national leaders.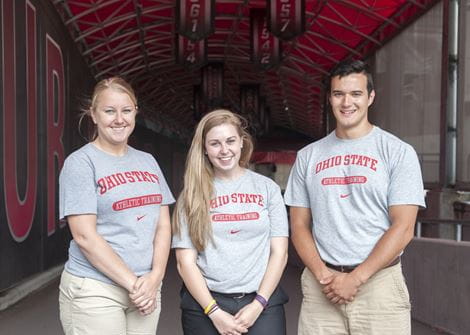 Over the last ten years, 99% of our students passed their national board exam on their first attempt.
Over that time, 202 out of 204 students passed on their first attempt. Our sustained record of excellence is not an accident. It's an expectation. Our graduates are in demand and most graduates have been hired 30 days after graduation.
Our Program is Guided by four goals:
To graduate students who are ready for independent practice.
To graduate students who will become leaders in Athletic Training and/or the Medical Community.
To graduate students who are engaged in serving the larger community.
To graduate students who will be future innovators.