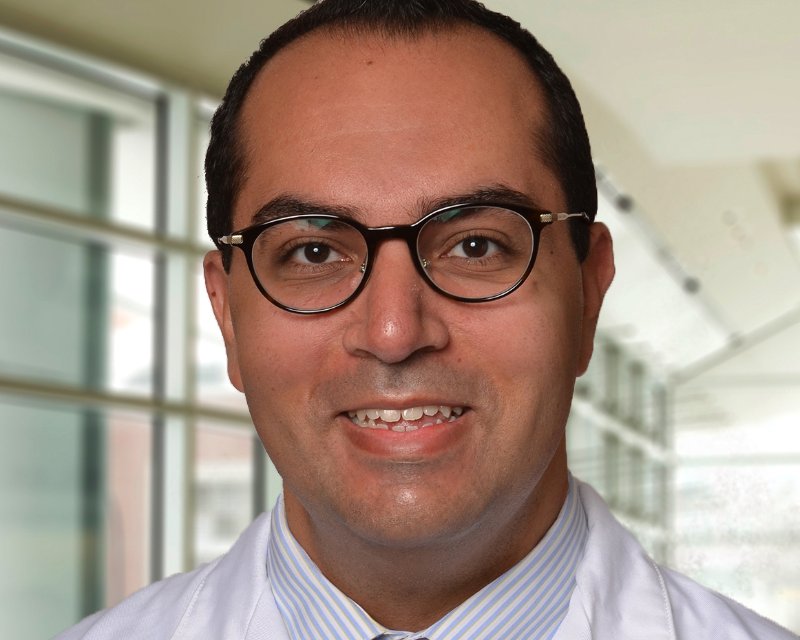 Two research initiatives underway at The Ohio State University may help clinicians improve acute treatment and long-term management of kidney stones. The studies, led by endourologist Michael Sourial, MD, assistant professor in Ohio State's Department of Urology, seek to understand how urolithiasis pain is managed in the Emergency Department (ED) and to confirm whether telemedicine technology can improve quality of care and outcomes among kidney stone patients.
Identifying trends and variations in analgesic use
Pain management is an important component of kidney stone management, especially for patients whose stones may pass naturally with time and extra fluid intake. However, as kidney stone incidence continues to rise, so can the exposure to and dependence on opioids.
"When patients present with severe pain, physicians must balance appropriate diagnosis, treatment and pain management strategies with potential drug-seeking behavior," Dr. Sourial says. "We know more people, particularly from lower socioeconomic backgrounds, are developing kidney stones. But we don't know how narcotics are used or prescribed for people with urologic conditions in Ohio State's EDs, or whether there is bias in treatment practices."
To better understand opioid prescribing patterns among patients with acute kidney stone disease, Dr. Sourial is conducting a retrospective analysis of electronic medical records. He and his team are examining opioid prescription usage among 1,636 adult patients who were treated for urolithiasis at one of two Ohio State EDs between January 2013 and August 2018.
This analysis will identify the percentage of ED encounters that led to narcotic or NSAID use during the visit and at the time of discharge, matched with patient demographics including age, gender, race, ethnicity and insurance status. By the end of this study, the team hopes to:
Understand characteristics of patients seeking care for urolithiasis in the ED
Pinpoint longitudinal trends in opioid prescriptions for kidney stone patients in the ED
Identify racial and socioeconomic disparities associated with opioid use
"National studies have shown that racial and ethnic disparities are often present in the setting of emergency pain management," Dr. Sourial says. "If our data confirms racial-ethnic and insurance disparities are more pronounced in opioids prescribed at discharge compared to opioids administered in the ED, it will support our efforts to manage patients' pain in a way that's responsible and culturally sensitive."
Streamlining care and strengthening outcomes
In tandem with his opiate study, Dr. Sourial is also leading a multidisciplinary effort to provide better access to care to kidney stone patients from underserved areas of Columbus.
Supported by a recent grant from the Upper Payment Limit program, he and a team of urologists, nephrologists, dietary specialists and nurses will launch a telemedicine program at The Ohio State University Wexner Medical Center East Hospital this fall. Their goal is to help guide patients – particularly those with government-sponsored insurance – through all aspects of kidney stone care, including acute management of stone crises and long-term prevention strategies. Over the course of three years, the team aims to:
Decrease ED visits for stone-related morbidity
Provide faster surgical treatments for patients who need more aggressive interventions
Increase compliance with treatment adherence
Decrease stone recurrence rates
"Telehealth methodology has the potential to be cost-effective while decreasing wait times for consultations and follow-up care," Dr. Sourial says. "Patients can see and speak directly with the specialists who are managing their care, via their own smartphones or a dedicated computer set up at Ohio State East Hospital."
Training tomorrow's leading physicians and researchers
As part of its increasing focus on patients with kidney stones and other urologic conditions, Ohio State has welcomed a new endourologic surgery fellow:
Maurilio Garcia-Gil, MD, MPH, completed residencies in general surgery and urology at Mount Sinai Medical Center in Florida. In addition to his medical degree from UT Southwestern Medical School, he also has a master's in public health from Texas A&M Health Science Center. Dr. Garcia-Gil will follow a clinical track focused on obtaining the advanced skills necessary to perform minimally invasive urologic surgery.
Thanks to this comprehensive approach that melds medical training with clinical care and scientific research, Ohio State is setting new standards of care for urology patients across central Ohio.