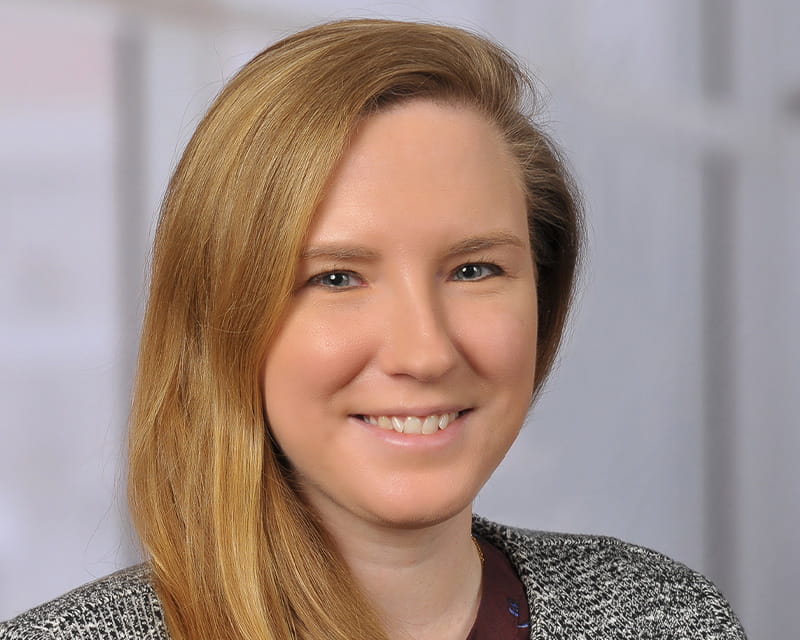 What biases do patients hold toward their doctors, whether conscious or unconscious? And how can physicians overcome these biases and give patients the valuable care they need?
The Ohio State University Wexner Medical Center Department of Urology is on the forefront of a growing trend in health care education that seeks to answer these questions, through implicit bias research and training.
Starting this spring, medical residents and fellows will have the opportunity to attend specially designed educational discussion sessions as part of a new research study called "Measuring Biases in Health Care."
"Specifically, we'll be looking at what biases are held by patients and the general public about health care providers and how those biases might impact patient care," Tasha Posid, PhD, explains. Dr. Posid is the principal investigator of the study and the education specialist with the Ohio State Wexner Medical Center Department of Urology.
To support the implicit bias study, Dr. Posid was awarded a Coca-Cola Critical Difference for Women Grant for Research on Women, Gender, and Gender Equity.
Implicit bias refers to mental associations that are formed by unconscious stereotypes and attitudes, which have been shown to predict outward behaviors.
Dr. Posid, along with Courtenay Moore, MD, director of the Urology Residency Program, and colleagues in the Office of Graduate Medical Education, hopes that participation in the implicit bias training sessions will help medical trainees be more aware of the types of biases they might encounter. The goal is to help medical trainees develop strategies to overcome implicit biases and, if needed, to help others do the same.
"We want our physicians and health care teams to provide excellent health care. And understanding our diverse patient population and how they think is critical," Dr. Posid says. "If you understand the patient population, you can offer better care."
Assessing biases encountered by physicians and providers
To assess the prevalence and strength of biases in health care, Dr. Posid and her colleagues will examine a wide variety of implicit biases that health care providers encounter in dealing with both their patients and other health care workers—including gender, race and ethnicity, socioeconomic status and appearance.
Initially, their areas of investigation will focus on race, ethnicity and gender.
"Long ago, we planned to assess biases involving race and gender, which is very timely given our current cultural climate," Dr. Posid says. "We'll look at how our patients' implicit biases may impact the way they perceive their doctors and the level of health care that they ultimately pursue and receive."
Examples of gender-related biases might involve the patients' expectations regarding their doctor's gender.
During the upcoming educational discussion sessions, a female resident might describe a time she walked into the room to meet a patient, and the patient said, "Oh, are you the nurse?"
Another scenario—common within urological care—is that some patients have very strong preferences about their doctor's gender when they need to discuss sensitive topics.
"It's not uncommon for a male patient to be uncomfortable discussing his sexual health with a female doctor or vice versa," Dr. Posid explains. "Physicians often encounter these situations and implicit biases, and that's why we implemented this research study."
Topic-based sessions will help medical trainees overcome implicit bias
How will Dr. Posid's team learn about the types of biases new doctors might encounter?

A key source of research prior to these educational discussion sessions will come from computer-based research into implicit biases held in the general public, using a series of evidence-based Implicit Association Tasks (IAT).
"Many people do have biases, but generally, they won't tell you. The implicit bias association tasks help people understand any implicit biases they might have," Dr. Posid explains. "These types of tasks have been used in research for years and allow researchers to detect implicit biases that participants may not even know they have."
Dr. Posid and her team will develop the educational discussion sessions using information gathered from the general public and from those who are likely to be patients that these medical trainees will see in the future.
The first educational session will feature a discussion on race and bias led by Quinn Capers IV, MD, who has provided other types of implicit bias training at The Ohio State University. Dr. Capers is now the vice chair of Diversity, Equity, and Inclusion in the Department of Internal Medicine at UT Southwestern Medical Center.
"The format will include a discussion about what biases medical trainees should be aware of and how they can overcome bias if they encounter it among their patients," Dr. Posid explains.
Before each discussion session, participants will take a short intake survey that asks questions such as:
Have you ever experienced biases coming from your patients? If so, what type?
Have you ever experienced biases coming from your colleagues? If so, what type?
The discussion participants will also take an implicit bias association test before and after the discussion session to create additional awareness about biases and what forms they may take.
Unique implicit bias training to provide better cross-cultural care
The educational discussion sessions will serve as a model to help Dr. Posid and her colleagues design a first-of-its kind implicit bias training curriculum for future medical trainees across The Ohio State University College of Medicine, including those in surgical specialties, residents and fellows.
By studying the findings from this initial small-scale implicit bias curriculum, the leadership from the Ohio State College of Medicine and the Department of Urology will learn what type of training is needed to formally integrate implicit bias training into future larger scale curricula.
If the small-scale implicit bias training is successful, it could be adopted within other specialties, at other institutions and universities, and among other levels of trainees.
"Our goal is to help physicians prepare for potential biases, be aware of them, and still provide patients with excellent care," Dr. Posid explains.
Dr. Posid will disseminate the implicit bias findings so that other medical programs may also benefit from this novel, evidence-based training.