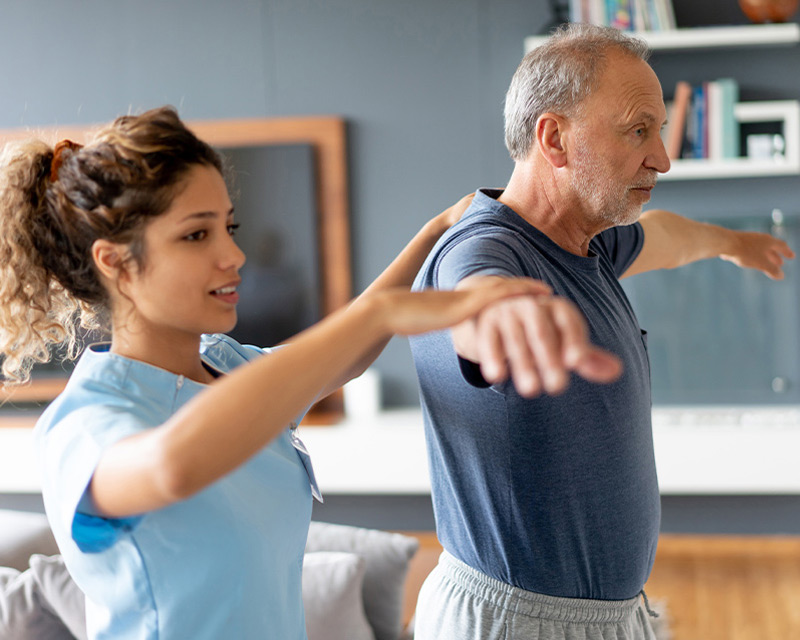 The Ohio State University Wexner Medical Center Fall Prevention Clinic takes a holistic, multidisciplinary approach to assessing why patients are at risk for falls and fall-related injuries. Joseph Rosenthal, MD, MPH, a physiatrist at the Ohio State Wexner Medical Center, runs the clinic along with a physical therapist. The Fall Prevention Clinic treats patients of all ages, though Dr. Rosenthal notes that most patients are older adults.
"We work with every age group," he says. "We often see patients who are younger and may have neurological conditions that put them at risk for falls."
The clinic's purpose is to spend time delving into the patient's symptoms, home environment, medications, functional status and other factors to identify their unique fall risk factors.
"We take the time to look at each patient holistically to prevent future falls and not address just one fall they've told their treating physician about," Dr. Rosenthal explains.
Fall prevention assessment
During each patient appointment, Dr. Rosenthal spends a significant amount of time asking questions, taking the patient's health history and doing a thorough physical examination, while a physical therapist performs a functional evaluation to assess balance.
"We do this to identify risk factors for falls like dizziness, polypharmacy, improper use of devices, chronic pain, neuropathy, cognitive impairments and heart issues," he says. "We identify as many risk factors as possible because patients rarely only have just one fall risk factor – they typically have multiple."
Once the patient has had a complete assessment, Dr. Rosenthal tailors a customized treatment plan based on their specific needs. Treatment recommendations can include fall prevention education, home environment modifications, physical therapy, assistive devices, vitamin D supplementation and further testing to mitigate fall risks.
Patient education is a critical element of the Fall Prevention Clinic.
"Some patients don't realize that they aren't using their assistive devices properly, that certain medications put them at higher risk or that even their home environments can be a hazard for falling," he says.
Factors that increase fall risk
Dr. Rosenthal emphasizes that the many risk factors fall into different categories. .
"If a patient goes to their primary care provider and says they're having falls, the PCP may ask if they're dizzy. If they say yes, they may refer them to a neurologist or start a medication. If they say no, they may refer them to physical therapy for balance. But the reality is, there is probably more than one reason for their falls. Physicians have time demands on their schedules and are often unable to spend as much time assessing patients as they would like."
If Dr. Rosenthal suspects a neurological issue, he refers the patient to a neurologist. If he suspects a heart condition is increasing their fall risk, he makes a referral to a cardiologist.
He also prescribes assistive devices as needed.
"Some patients need specific assistive devices, like a walker instead of a cane, or perhaps are not using the device correctly," he says.
The clinic also provides information to treating providers on which medications may be putting the patient at risk for falls. Medications like benzodiazepines, anticonvulsants, antidepressants, antipsychotics, opioids and sedatives-hypnotics can increase the risk of falls.
Additionally, mental health conditions can increase fall risk.
"Anxiety, depression and mental health issues are all risk factors for falling, so it's important to identify the problem and work with their provider to address it," says Dr. Rosenthal. "But many medications to treat mental health issues can increase the risk of falls. It's a balancing act to manage mental health concerns without over-sedating the patient or causing side effects."
Improving quality of life
The focus of physical medicine and rehabilitation, Dr. Rosenthal's specialty, is to enhance mobility and improve quality of life. He says his patients often experience a significant boost in quality of life once they're assessed for fall prevention.
"One patient who came to us lived in an independent senior living facility. She was falling frequently. Before coming to the clinic, the patient reported calling for help from the facility's staff 50 times in a year," Dr. Rosenthal says. "She went through the clinic and we referred her to physical therapy, prescribed the correct assistive devices, adjusted the devices specifically for her needs, and educated her on fall prevention and safe habits in her apartment. When we followed up with her, she had only had three falls in three months."
He adds, "She was very fearful of falling before. After her assessment at the Fall Prevention Clinic, she said her quality of life improved significantly."
Dr. Rosenthal says this feedback is what motivates and inspires his work.
"That's the biggest reward," he says.