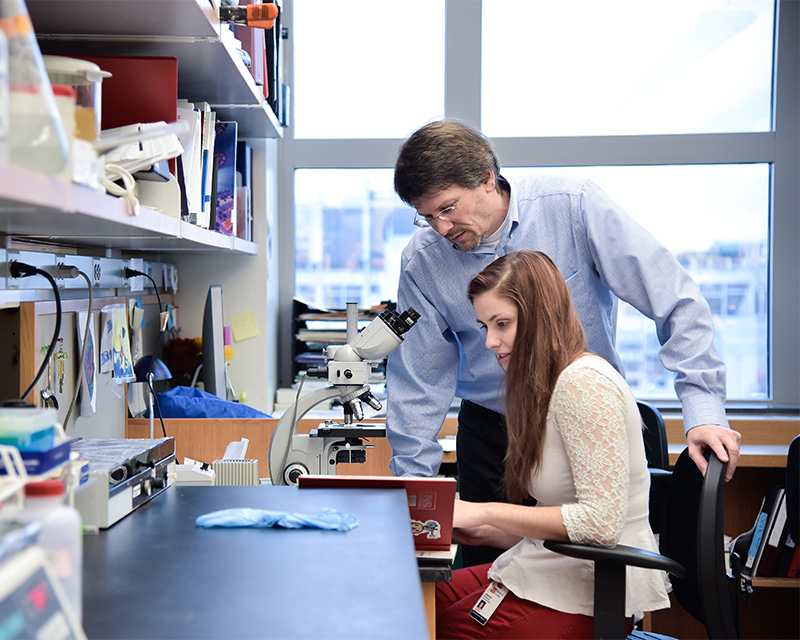 Nationally known neuroscience researchers Phillip Popovich, PhD, Dana McTigue, PhD and Jan Schwab, MD, PhD, are leading Ohio State's new Belford Center for Spinal Cord Injury. Funded by a $10 million gift from the Belford Family Charitable Fund, the center pursues novel approaches in medical research, patient care, education and training to prolong and improve quality of life for spinal cord injury patients.
Spinal cord injuries often lead to additional health problems, including high blood pressure, incontinence, increased risk for infection, obesity and diabetes. Largely because of these secondary issues, the mortality rate for people with spinal cord injuries has not changed in more than 20 years.
Previous research by Ohio State has shown that spinal cord injuries can cause a paralysis of the immune system. Patients with injured spinal cords are 37 times more likely to die of an infection than someone without a spinal cord injury.
Dr. Popovich, professor and chair of the Department of Neuroscience at Ohio State and director of Ohio State's Center for Brain and Spinal Cord Repair, says the Belford gift will allow researchers to focus on innovative science necessary to improve mortality rates.
"The Belford gift is a game-changer for Ohio State in a number of ways," Dr. Popovich says. "It establishes a lifetime commitment to promote spinal cord injury research at Ohio State. It also will allow us to test difficult and important questions more quickly. Accelerating discovery should allow us to move more quickly to the clinic, where we can tell patients, 'We're ready, we think we have something that can help you.'"
The Belford gift will create a current-use fund to support the mission of the center, along with two endowed chairs in spinal cord injury and a research innovation endowed fund.