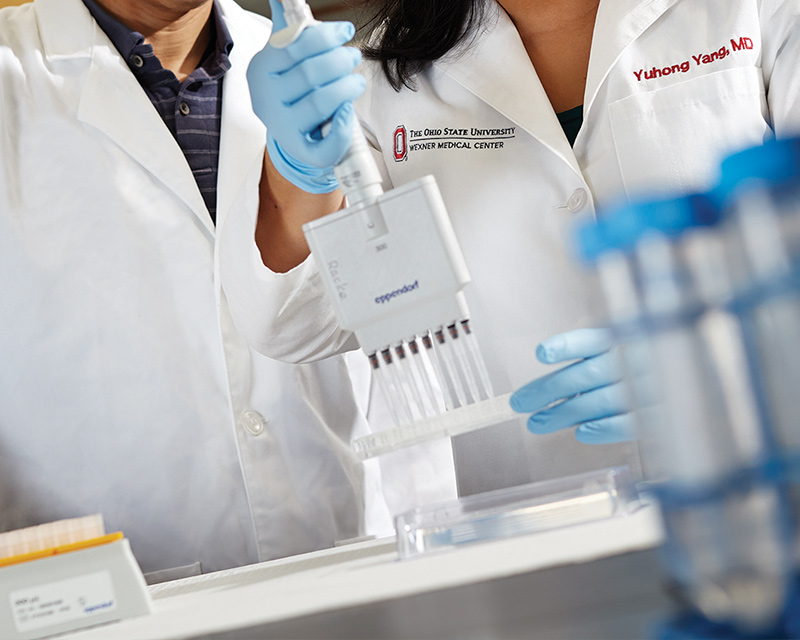 Ohio State neurologist Rawan Tarawneh, MD, has dedicated years to investigating the potential of biomarkers as a diagnostic and predictive indicator. Four of her current studies explore:
Markers of frontotemporal dementia
Led by Dr. Tarawneh, the biomarker lab at Ohio State is currently one of only a few centers worldwide working to develop novel blood tests to allow early detection of frontotemporal dementia, or FTD, the second most common dementia in patients under 65, behind Alzheimer's disease. This debilitating disease strikes patients in the prime of life and is often associated with more severe behavioral features and rapid functional decline than Alzheimer's.
Currently, there are no reliable methods for FTD diagnosis, and treatments are symptomatic but don't modify disease progression. Although genetic testing serves as a cornerstone of FTD diagnoses, more dynamic markers are needed to track changes that can occur with disease progression or treatment. The novel blood tests being pursued in Dr. Tarawneh's lab may allow earlier detection of this serious disease and improve monitoring over time. Also under investigation are several potential candidates for drug discovery.
On the clinical treatment side, Ohio State is starting a specialized FTD clinic to provide multidisciplinary care for patients with this serious disease.
Markers of synaptic injury in Alzheimer's patients
This Ohio State University College of Medicine-funded functional MRI study measures how well markers of synaptic injury (neurogranin and SNAP-25) correlate with functional connectivity in patients with Alzheimer's. Measures are compared with healthy controls and collected in both resting states and while performing a semantic memory task.
Dr. Tarawneh's research was among the first to identify the utility of neurogranin as a marker of synaptic injury in AD. This new study is among the very first studies in the world to examine semantic memory using functional MRI in Alzheimer's disease patients – other studies have relied on examination of healthy controls only. It is also the first study that explores the relationship between these cerebrospinal fluid (CSF) markers and functional MRI.
Although recruiting of adults 60-95 for this study is currently on hold due to COVID-19, it should resume shortly. Study details and recruitment details can be found at clinicaltrials.gov.
MicroRNAs of autophagy in Alzheimer's disease
This National Institutes of Health (NIH)-funded study examines whether mir-17~92 – a cluster of microRNA molecules that measures autophagy – is altered in the cerebrospinal fluid (CSF), blood or brain tissue of Alzheimer's disease patients. These results are then compared to the same measurements in healthy control subjects.
A collaborative effort between Dr. Tarawneh and microbial infection and immunity expert Amal Amer, MD, PhD, will highlight the importance of impaired autophagy, an innate clearance mechanism of the brain in Alzheimer's disease development. It may also yield potential targets for novel Alzheimer's therapies.
Partners wanted
"Biomarker research holds tremendous potential and presents nearly limitless opportunities for collaboration," Dr. Tarawneh says. "The clues are there, just waiting to be discovered in so many diseases, so I'm always eager to discuss the hypotheses of other specialists who are often able to see neurological issues or other complications in the diseases they treat most often.
"Are there biomarkers we could find together that may help us detect drug response at a molecular level or pinpoint risks that we can treat before the symptoms even appear?"
Dr. Tarawneh emphasizes the state-of-the-art technology available at her Ohio State biomarker lab, which lets her develop and optimize immunoassay for many different markers.
"We use the SIMOA, which offers much higher sensitivity – over a thousand times higher – than standard ELISAs," she explains. "This allows us to find previously undetectable levels of protein and RNA in biological specimens. Although my current focus is in markers related to cognitive impairment and dementia, the possibilities are limitless, and we've worked with specialists from neuroscience, bioinformatics, psychology, psychiatry, nursing, radiology, and physical medicine and rehabilitation – but there's always room for exploration in other fields as well. We welcome inquiries from anyone, both within and outside of Ohio State, for any project involving novel biomarker discovery or validation."
To discuss a potential collaboration opportunity with Dr. Tarawneh, please use the contact information below, with email being the preferred method.
Rawan Tarawneh, MD
Neurologist, The Ohio State University Wexner Medical Center
Assistant Professor of Neurology, The Ohio State University
614-293-0276
rawan.altarawneh@osumc.edu or altarawneh.1@osu.edu