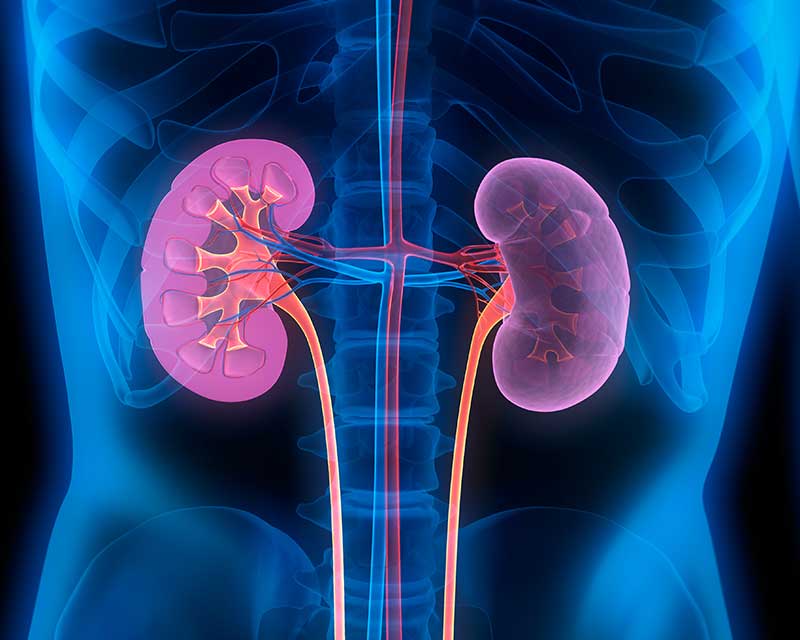 New treatments cure the virus in most organ recipients within 12 weeks
A new clinical trial at The Ohio State University Wexner Medical Center may decrease wait times for people who need kidney transplants. The study, Use Hep-C, Utilization of Hepatitis C Positive Kidneys in Negative Recipients, makes it possible for patients without hepatitis C to safely receive kidneys infected with the virus.
Although this practice would have been unthinkable only a decade ago, groundbreaking new treatments for hepatitis C offer a cure rate of at least 97%.
"Historically, hepatitis C-positive kidneys were given only to recipients who were already infected," says Reem Daloul, MD, a transplant nephrologist in The Ohio State University Division of Nephrology and the study's principal investigator. "Previous hep C treatments were poorly tolerated with comparatively low cure rates. New antiviral drugs are well-tolerated with minimal side effects, and research shows most people are disease-free after just 12 weeks of therapy."
A larger pool of viable organs
This new practice could have a significant impact on organ availability – especially as the number of hepatitis C-infected donors continues to grow.
"UNetsm data shows nearly a four-fold increase in the number of hep C-infected donors from 2000 to 2018," Dr. Daloul says. "Because of the opioid crisis, the number of organ donors dying from drug intoxication has been increasing. Many of those donors have hepatitis C." Figure 1.
According to the U.S. Department of Health & Human Services Organ Procurement and Transplantation Network, in 2018, more than 750 donors had hepatitis C – and most of their potentially lifesaving organs were discarded.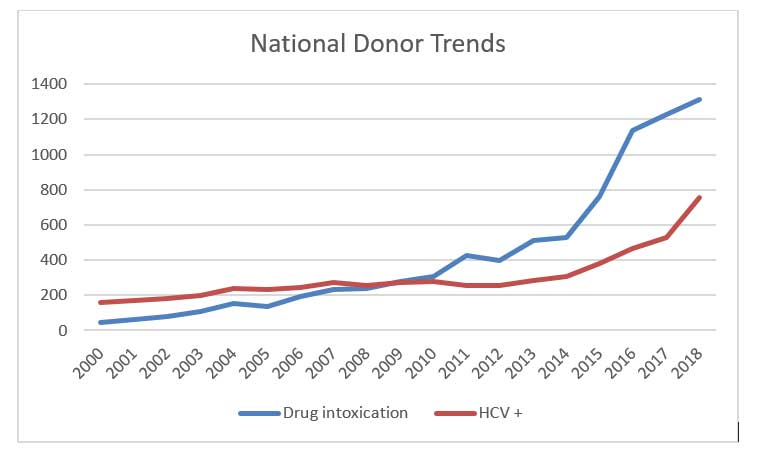 https://optn.transplant.hrsa.gov/data/view-data-reports/national-data/


From scientific study to standard of care
In the first three months of Ohio State's study, which launched in April 2019, 13 patients received kidneys with hepatitis C. They became hepatitis C virus (HCV) seropositive three to 10 days after transplant and were started on direct antiviral therapy within two to four weeks of transplantation. To date, all patients who have been started on therapy have cured their HCV infection, with the majority having viral cure within one month.
"Our patients have also had excellent graft function without complications," Dr. Daloul adds. "Their transplant outcomes are equivalent to patients who receive uninfected kidneys. This is consistent with outcomes reported by studies led by other major medical centers in the U.S."
Dr. Daloul says that after completing their target enrollment of 22 kidney patients, this opportunity will be offered routinely to patients on the kidney waiting list who fit certain criteria. Additionally, Ohio State will likely expand the study and offer transplants using hepatitis C-infected hearts and lungs.
"Within the national transplant community, we anticipate hep C-positive transplants to become standard practice for eligible patients during the next two to five years," Dr. Daloul says. "And here at Ohio State, our goal is to make this opportunity available to all interested transplant patients by the end of 2020. The more organs available, the more lives we can save – with fewer people waiting on the lengthy state and national wait lists."