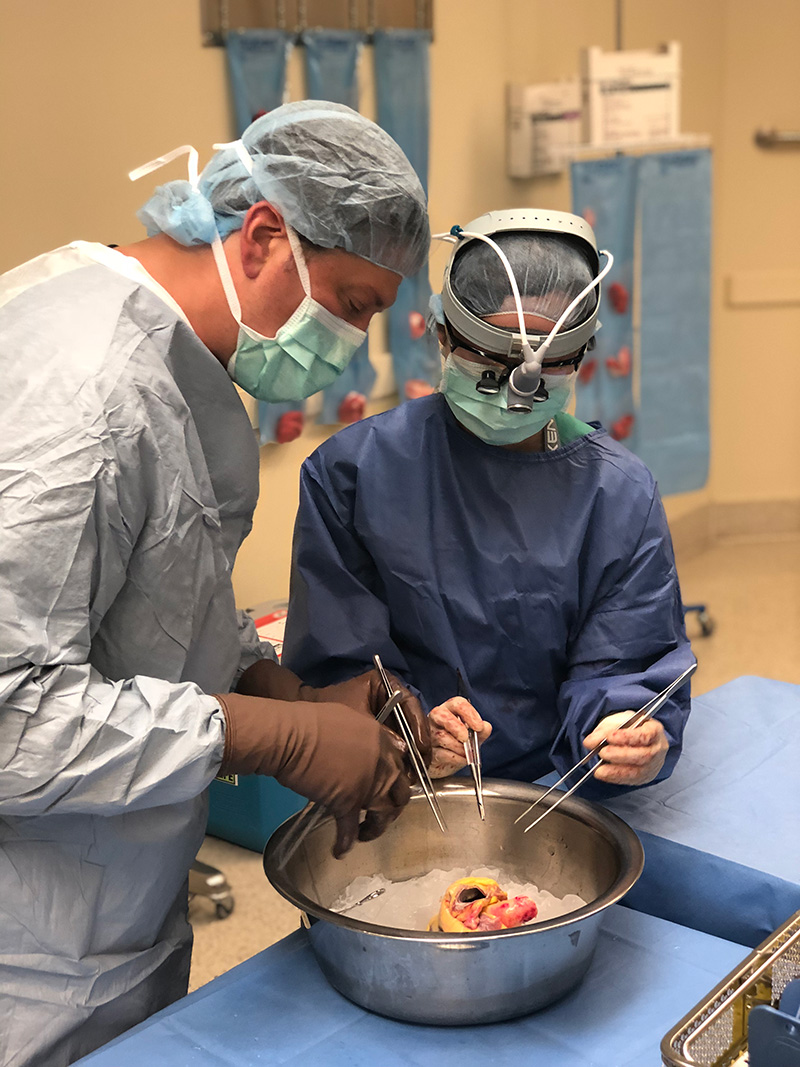 The Ohio State University Wexner Medical Center is the first in Ohio, and one of only 16 in the nation, to evaluate whether ex-vivo normothermic machine perfusion makes it possible to transplant donor hearts often considered unusable.
As part of the multicenter OCS™ Heart EXPAND Continued Access Protocol trial, Ohio State physicians are studying whether the OCS™ Heart system can improve preservation and assessment of extended criteria donor hearts following procurement — a practice that could significantly increase the number of people who receive a lifesaving heart transplant.
Limitations to a long-used practice
While overall organ transplant rates are at an all-time high in the United States, the number of heart transplants performed annually is still lower than the number of people on the heart waiting list. Only 30-35% of donated hearts are used for transplantation, due in part to limitations of cold storage preservation.
Physicians at Ohio State Wexner Medical Center are participating in a multicenter trial to test whether normothermic ex-vivo heart perfusion makes it possible to transplant donor hearts that don't meet standard acceptance criteria, or which would have a longer ischemic time.
"Even though static cold storage has been used to transport hearts and other donor organs for decades, there are known challenges," says Bryan Whitson, MD, PhD, director of thoracic transplantation and mechanical circulatory support in Ohio State's Division of Cardiac Surgery.
"The biggest limitation is overall ischemic time," he explains. "Once the heart goes on ice, we only have about four hours before it starts exhibiting some dysfunction. And hearts that are a little older or thicker may show signs of ischemic injury even sooner. Geographically speaking, this restricts donor availability."
Transporting hearts via cold static preservation also makes it harder to assess the viability of those organs, meaning it's difficult to predict how well they'll function after transplant. But an investigational device called the OCS™ Heart may eliminate these challenges. The novel system preserves donor hearts in a near-physiological, beating state by perfusing them with a warm solution that contains donor blood, nutrients and oxygen. The hearts are kept in this controlled state until they reach their recipients.
Early results are promising
The new study, which opened at Ohio State in October 2019, builds off the previous, international EXPAND trial.

That pivotal study, which launched in 2015, showed that using the OCS™ Heart resulted in successful transplantation of 81% of donor hearts that wouldn't ordinarily be utilized after cold storage. Data from the United Network for Organ Sharing showed donor hearts used for the EXPAND trial had been declined for transplantation on average 66 times by other transplant centers before reaching an OCS trial center. And patient survival rates among the 75 enrollees were 95% at 30 days post-transplant.
"After the original EXPAND trial, the Food and Drug Administration asked to see more data," says Dr. Whitson, who is a professor at the College of Medicine. "Through this next phase of research, we'll continue to evaluate the safety and efficacy of the device. Of the roughly 30 heart transplants we perform annually at Ohio State, we expect to use four to five eligible, perfused hearts."
To meet the study's inclusion criteria, donor hearts must have an anticipated cross-clamp time of greater than four hours; or, they must have an expected cross-clamp time of more than two hours plus at least one of the following risk factors:
Donor age greater than 55
Injection fraction between 40-50%
Left ventricular hypertrophy
Minor coronary artery disease
Downtime of 20 minutes or more prior to pronouncement of death
"These are the same criteria that, when combined with cold static preservation, often make donor hearts unusable," says Dr. Whitson. "Today, most centers would only take these hearts on a strict, case-by-case basis. But if we can show ex-vivo perfusion allows these so-called marginal or extended criteria hearts to be transplanted successfully, it will be a game-changer."
Dr. Whitson notes that if organ perfusion makes time outside the body less relevant, geographic limitations may also disappear. Donor hearts could be transported over greater distances and recipients, particularly from rural areas, could travel farther to a transplant center.
"I see ex-vivo organ perfusion as the biggest potential advancement in transplantation since the advent of the immunosuppression drug cyclosporine in the early 1980s," he says. "Organ perfusion may give us the first tangible option to remove ischemic time as a barrier, and also to resuscitate and repair marginal organs."
Read more featured stories about The Ohio State University Heart and Vascular Center.