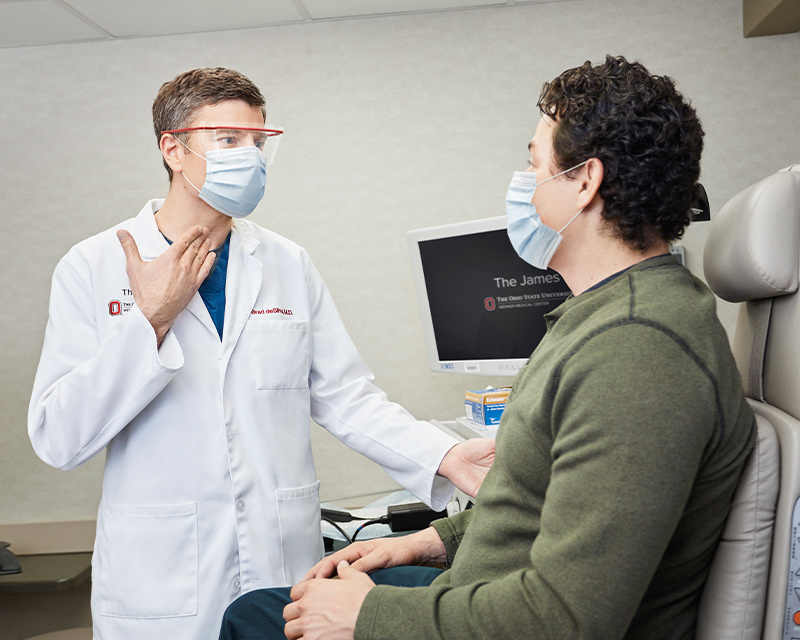 Ohio was one of the first states to take definitive steps toward protecting its citizens against COVID-19. Gov. Mike DeWine declared a state of emergency on March 9, 2020, when only three people in the state had tested positive for the disease. On March 11, he limited nursing homes to one visitor per resident per day. The next week, he asked hospitals to delay elective surgical procedures to preserve personal protective equipment (PPE).
By then, otolaryngologists at The Ohio State University Wexner Medical Center were already taking decisive measures to ensure a safe environment for patients and health workers while continuing to provide critical medical services amid the pandemic. The stakes were also high for providers themselves, since otolaryngologists are at higher risk of COVID-19 exposure than most other medical specialists due to the types of surgeries and office-based procedures they perform.
"When the virus hit, we mobilized quickly to provide telehealth as an alternative to many outpatient visits, created a safe environment for patients who needed in-person care and established a priority ranking system for patients whose treatment plan included surgery," James Rocco, MD, PhD, chair of the Department of Otolaryngology— Head and Neck Surgery says. "Our faculty also found creative ways to continue offering training opportunities for medical students, residents and fellows during this unprecedented time."
Serving our surgical and ambulatory patients
When the governor's elective surgery ban was announced, the Department of Otolaryngology's head and neck cancer service line suspended almost all cancer surgeries for two weeks. The plan was to resume operations once the medical center could establish COVID-19 screening and testing procedures and ensure an adequate PPE supply.
The service line leaders created an emergency operations tumor board with representatives from otolaryngology, surgery, radiation oncology, medical oncology, nursing and pharmacy.

"We met via video conference every day to establish a priority ranking system for the 200-plus patients who were waiting for surgery," says Matt Old, MD, director of the Division of Head and Neck Surgery. "We discussed each patient individually—who needed surgery right away, whose surgery could be delayed and which patients could be switched to a non-surgical treatment strategy."
Every decision was made as a team so that the responsibility and emotional burden were shared by many. "I think it helped patients to know that an entire team was behind them and working together to provide the best care possible in extremely unusual circumstances," Dr. Old says. "It was a very stressful few weeks, but by early May, we caught up on the backlog of surgical patients. We didn't observe any advancement in disease as a result of the treatment decisions we made during those early weeks of the pandemic."
Otolaryngology ambulatory clinics posed a different set of challenges, and leaders responded with a comprehensive plan to ensure everyone's safety. The most significant initiative involved a pivot to telehealth, which otolaryngologists at Ohio State Wexner Medical Center had not used before the pandemic. Of the more than 2,000 otolaryngology appointments in April, 75% were conducted via telehealth.
The department began offering more in-person appointments in May while following well-established infection-control guidelines. These included requiring COVID-19 testing for any patient whose clinical evaluation would involve an aerosol-generating procedure.
Creating a safer inpatient plan
Caring for patients while keeping them (and providers) safe in the inpatient setting became a balancing act that required collaboration with other specialists throughout the medical center. For example, otolaryngologist Minka Schofield, MD, led a multidisciplinary effort to create a COVID-19 response for patients in the intensive care unit who were being considered for a tracheotomy.
"Tracheotomy is one of those aerosol-generating procedures that puts providers at increased risk for contracting COVID-19," Dr. Schofield says. "We needed to establish protocols that would limit physician exposure to the virus and guide decision making when a complex airway patient tested positive for COVID-19. I worked with fellow otolaryngologists and a pulmonologist specializing in airway issues to develop trach protocols that took many factors into account, such as a patient's condition and prognosis, physician availability during reduced workforce conditions, and the availability of PPE. We followed the protocol using a multidisciplinary team approach to reach a consensus about each patient's surgical airway plan."
Preparing for what's next
During the early days of the pandemic, otolaryngologists at Ohio State Wexner Medical Center recognized an opportunity to conduct research that would help establish new best practices if COVID-19 cases surge or another pandemic occurs.
"Before the medical center instituted COVID-19 testing protocols, there was a lot of fear about whether it was safe to do airway surgeries and how providers could protect themselves and their patients from the virus," says laryngologist Laura Matrka, MD. "Some of my colleagues and I decided to document the department's efforts to keep clinical areas safe. This involved collecting data about what PPE was worn and by whom, documenting other surgical safety methods and evaluating provider experiences with telehealth, for example. Our research on the initial response has already been published, and our additional publications will show how our response is evolving."
Dr. Matrka says that in the midst of a very trying year, she saw some silver linings. "To provide the best possible care for patients during the pandemic, our entire team pulled together in ways we never had to before," she says. "I feel very fortunate to have gone through this experience with my colleagues at Ohio State Wexner Medical Center. If there's a surge or we face another pandemic in the future, we'll be ready."