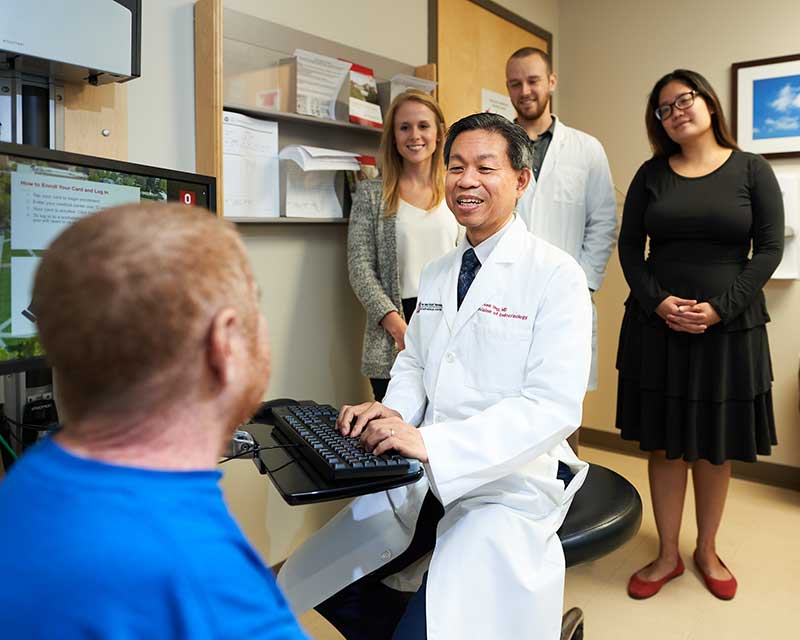 Through a combination of innovative scientific research and clinical programs, endocrinologists at The Ohio State University Wexner Medical Center are making strides in understanding and treating disorders that cause soft, weak bones. Thanks to their efforts, even patients with rare disorders have access to expert care and clinical trials.
Ongoing and forthcoming research
In addition to maintaining his clinical practice,
Steven Ing, MD
, associate professor in Ohio State's Division of Endocrinology, Diabetes and Metabolism, is busy leading or participating in several research studies related to metabolic bone and mineral disorders. Most recently, he was the international principal investigator for a phase 1 pharmacokinetic-pharmacodynamic clinical trial investigating the use of once-daily versus twice-daily parathyroid hormone (PTH1-84) for treatment of hypoparathyroidism.
"We were the highest-enrolling U.S. center in this multinational study with 18 sites in the United States, Canada and Europe," Dr. Ing says. "We presented our preliminary data, which is very promising, at the annual meeting of the American Society for Bone and Mineral Research in September 2019."
Dr. Ing adds that Ohio State is still enrolling subjects into a study investigating quality of life in patients with hypoparathyroidism randomized to PTH1-84 versus placebo. He and his team also hope to launch three additional clinical studies in hypoparathyroidism during the coming year.
In the meantime, Ohio State is the highest-enrolling site for an ongoing international natural history study of hypoparathyroidism. With a target enrollment of 900 people who will be followed for 15 years, Ohio State and other centers from around the world are systematically collecting data on patients who are treated either with parathyroid hormone or conventional calcium and activated vitamin D therapies.
"We're also enrolling patients into natural history studies of several bone diseases, including the rare genetic disorders hypophosphatasia and X-linked hypophosphatemia, and a clinical trial assessing pharmacologic therapy in men with osteoporosis," Dr. Ing says.
Fostering the development of bone fracture prevention programs
Ohio State is also breaking new ground in bone fracture prevention. Dr. Ing and his colleagues within the division run a secondary fracture prevention program that helps patients who are hospitalized with fractures identify and address their underlying bone conditions.

"There is an important, nationwide clinical care gap among patients with acute fractures," Dr. Ing says. "A recent study found that only one in five patients with broken hips was treated within the first year after their fractures. Here at Ohio State, we've increased that rate to 70%. We evaluate patients during or immediately after hospitalization to find the causes of bone fragility, then start treatments designed to prevent future fractures."

Dr. Ing hosts continuing medical education (CME) events for physicians who are interested in creating similar fracture prevention programs at their own institutions. His efforts are paying off – in 2019 alone, he helped his peers launch fracture programs at three hospitals in Ohio.
Additional CME opportunities include Ohio State's annual Bone Day conference. This one-day event, which will take place Nov. 22, 2019, in Columbus, Ohio, will help participants:
Clarify the role of various pharmacologic therapies to treat osteoporosis
Review the subtle and sometimes tricky presentation of patients with rare bone disease
Evaluate patients who are high risk for fracture in regard to treatment options and considering secondary causes of bone loss
Review the most recent guidelines regarding the evaluation of primary hyperparathyroidism, the most common cause of hypercalcemia
For more information
To enroll a patient in any of the clinical studies highlighted in this article, or to learn more about creating a secondary bone fracture prevention program, contact Dr. Ing at Steven.Ing@osumc.edu.

Read more featured stories