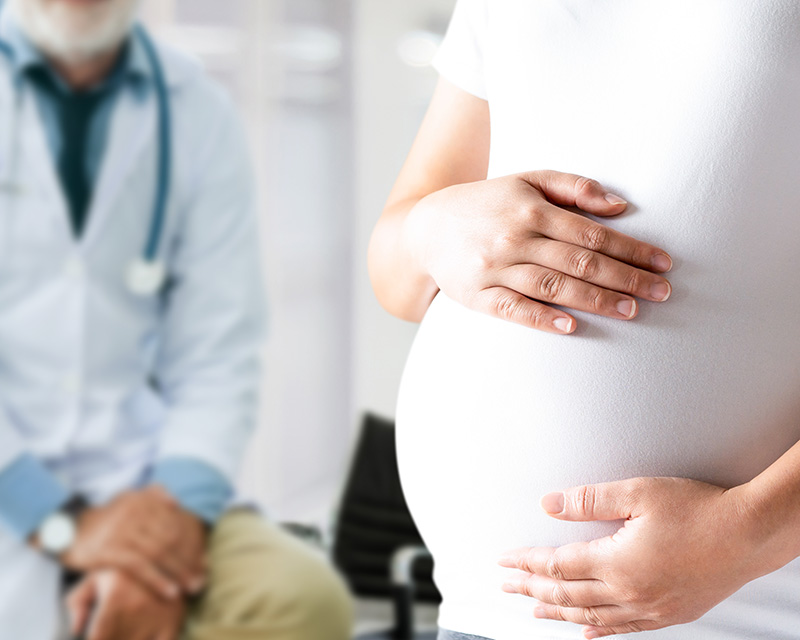 Several clinical and research initiatives launched by physicians at The Ohio State University Wexner Medical Center are helping women with type 1 diabetes conceive and maintain healthy pregnancies.
Their efforts — including a partnership between endocrinologists and maternal-fetal medicine specialists — make it possible for patients who have historically been encouraged to avoid pregnancy to safely become mothers.
Reducing risks with rigorous supervision
Women with type 1 diabetes who want to get pregnant face known risks, including miscarriage, preeclampsia, preterm birth, stillbirth and congenital abnormalities such as neural tube defects. However, they can reduce these risks by achieving good glucose control before and during pregnancy, and by seeking care from a team of endocrinologists and high-risk pregnancy experts.
To help patients navigate this journey, Ohio State launched an Endocrine Disorders in Pregnancy clinic in 2014.
"We essentially have a clinic within a clinic," says endocrinologist Elizabeth Buschur, MD, who founded and now oversees the program. "Along with our colleagues from the Division of Maternal Fetal Medicine, we see shared patients in the same space on the same day. Together, we closely monitor the health and development of both the mother and baby, including weekly glucose reviews and frequent prenatal ultrasounds and other exams."
Endocrinologist Kathleen Wyne, MD, PhD, who is a professor – clinical at the College of Medicine, notes that, for diabetics, a healthy pregnancy starts with planning.
"We make sure our patients with type 1 diabetes understand that they can get pregnant, but they need to learn what the risks are and how to manage them ahead of time," she says. "Because our patients have access to the specialty clinic, we encourage them to schedule a preconception counseling appointment with a maternal-fetal medicine specialist. This is one of the best first steps to prepare for a healthy pregnancy and baby."
Investigating insulin pump use during pregnancy
Dr. Buschur, who also started a transition clinic for teens with diabetes who are moving from pediatric to adult endocrinology care, is participating in several research projects related to type 1 diabetes.
In collaboration with researchers from the Barbara Davis Center for Diabetes at the University of Colorado, she is leading a novel, two-year study to examine the use of an automated insulin pump during pregnancy.
"This particular device is what's known as a hybrid closed-loop system," Dr. Buschur, an assistant professor – clinical at the College of Medicine, says. "It's already commercially available, however the Food and Drug Administration hasn't approved its use in pregnant women. Because many patients are already using the device when they get pregnant, and then continue using it off-label during pregnancy, we want to confirm whether it's safe and effective."
The Pregnancy Intervention with a Closed-Loop System (PICLS) trial launched in 2019 and is funded by the Juvenile Diabetes Research Foundation. Investigators will compare participants who use the device in auto mode, which automatically adjusts insulin delivery in response to continuous glucose readings, and those who use the device in manual mode, meaning the pump does not automatically adjust insulin doses based on the continuous glucose monitor values.
"Our goal is to confirm whether automated delivery effectively controls glucose and prevents hypo- or hyperglycemia," Dr. Buschur says. "We also want to see if participants find the device easy to use and whether they feel it improves quality of life. If our data shows the device can be used safely during pregnancy, it may allow women to experience less erratic glucoses, since some of the insulin changes are done automatically by the pump."
This trial is currently recruiting pregnant women prior to nine weeks gestation who have type 1 diabetes and are willing to use the device through pregnancy and six weeks postpartum. All materials, including the pump and sensor, are provided free of charge. For more information or to refer a patient for enrollment, please contact Dr. Buschur at Elizabeth.Buschur@osumc.edu.