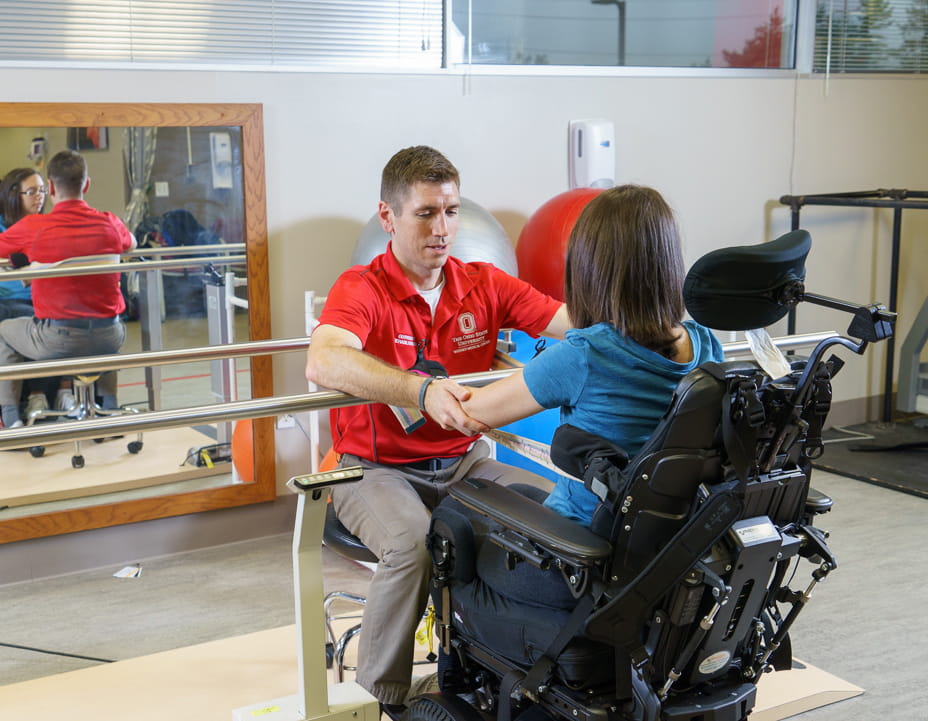 The Ohio State University Wexner Medical Center and the School of Health and Rehabilitation Sciences are proud to announce their recent candidacy status for a unique Neurologic OT Fellowship granted by the American Occupational Therapy Association (AOTA).
Ohio State Wexner Medical Center will accept two fellows for the upcoming 54 week-long program, which will begin on August 2019. The new fellowship supports the missions of both the AOTA and Ohio State Wexner Medical Center, by preparing clinicians to become Board Certified in Physical Rehabilitation with advanced knowledge, skills and professional behaviors in the field of Neurologic Occupational Therapy to improve the lives of patients.
Fellows will have the unique opportunity to treat patients with diverse neurologic diagnoses across both the inpatient and outpatient rehabilitation settings, while rotating between the two after 6 months.
Inpatient rotation includes time with the Spinal Cord Injury Program, Seating and Positioning Clinic, Brain Injury Program, Disorders of Consciousness Program, Neuro Vision Clinic and Stroke Services.
Outpatient rotation includes time with the Spinal Cord Injury Team, MS Team, Brain Injury Team, Parkinson's Team, Stroke Team, Assistive Technology Center, Vestibular and Neuro Vision Team, and the Movement Disorders Clinic.
In addition to clinical time, the fellows will spend time as an instructor and mentored colleague in our nationally-ranked Doctorate of Occupational Therapy Program. As one of the most established and respected OT programs in the country, we boast outstanding faculty that are committed to promoting scholarship, leadership and evidenced-based practice in occupational therapy.
Fellows will be considered an employee of The Ohio State University Wexner Medical Center and will be entitled to all the comprehensive benefits of a full time employee.
Fellowship Information
Sample Neurologic OT Resident Didactic Lectures
To Apply
Timeline
Application Deadline: April 15, 2019
Interviews: May 20, 2019
Accepted Fellows Notified: June 2019
Fellowship Start: Early August 2019
Instructions
Download and complete the application
Include a CV and references
Submit the completed application, CV and references by either email or postal mail:
Scan and email all of the items to:
OR
Mail all of the items to:
Theresa Berner
2050 Kenny Rd.
Suite 3350A Martha Morehouse Pavilion
Columbus, Ohio 43221
If you have any questions regarding the fellowship or application please contact Theresa Berner, MOT, OTR/L, ATP theresa.berner@osumc.edu or 614-293-3847.
Careers at Ohio State
For a full list of all open positions and benefits at The Ohio State University, The Ohio State University Wexner Medical Center, and Student Employment, please visit Human Resources
To build a diverse workforce, The Ohio State University encourages applications from all individuals. Ohio State is an Equal Opportunity/Affirmative Action Employer. All qualified applicants will receive consideration for employment without regard to age, race, color, religion, sex, sexual orientation, gender identity, national origin, disability status, or protected veteran status.

Additional Resources for Prospective Faculty and Staff
Higher Education Recruitment Consortium
Writing Effective Diversity Statements